Lab News
Congrats to our new lab graduates of Spring 2020!
Undergraduate lab members Carli Fine, Courtney Anderson, Katie Karayianis, Lena Meredith, and Miguel Turcios recently graduated from the University of Maryland.


Congratulations to undergraduate Carli Fine, named 2019 Philip Merrill Presidential Scholar!
Carli (left) and Dr. Riggins were honored at a reception by University President Loh and Dean Ball of the College of Behavioral and Social Sciences, where Dr. Riggins was also named the Phillip Merrill Faculty Mentor of the year.
Jack Bartlett Memorial Award in Psychology
Kelsey Canada, a 5th year graduate student in UMD's CNS Psychology program, received this year's Jack Bartlett Memorial Award in Psychology for her dissertation proposal, "Examining the co-development of episodic memory ability and hippocampal subfields - A longitudinal study". This award was established to honor the memory of Jack Bartlett by supporting graduate students in psychology and is presented to the student who has submitted the most outstanding doctoral dissertation proposal this year. Kelsey will present her dissertation work to the department in Spring 2020. Congratulations Kelsey!
Recent Conference Presentations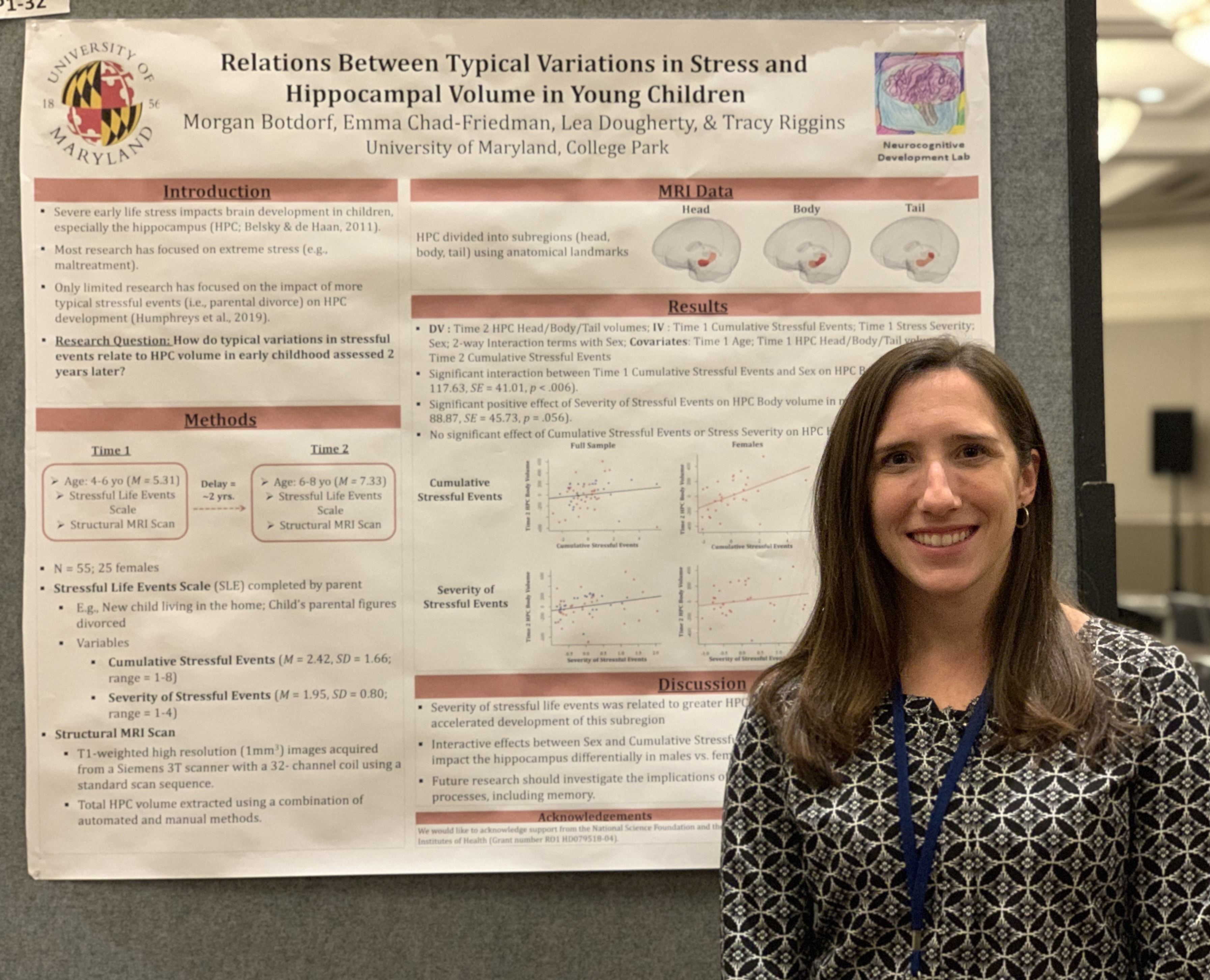 International Society for Developmental Psychobiology
Morgan Botdorf presented her poster on stress impacts on the hippocampus in young children at the 52nd annual meeting of the International Society for Developmental Psychobiology in Chicago, IL.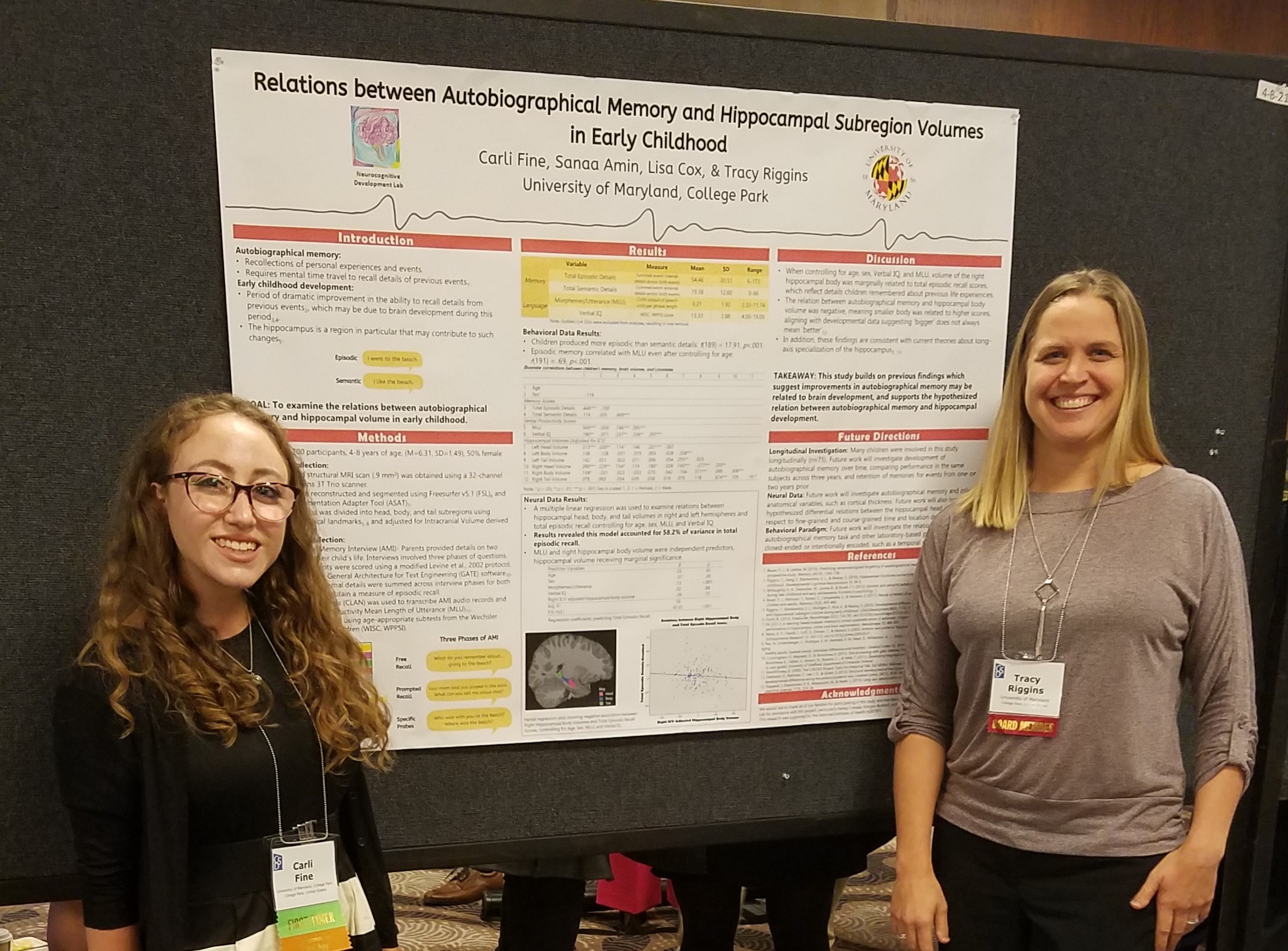 Cognitive Development Society
Carli Fine (Left) and Tracy Riggins at the 2019 annual meeting of the Cognitive Development Society in Louisville, KY.
Carli presented the lab's research on autobiographical memory and hippocampal volumes in early childhood while Dr. Riggins presented a talk on memory consolidation during sleep and hippocampal development as part of a symposium.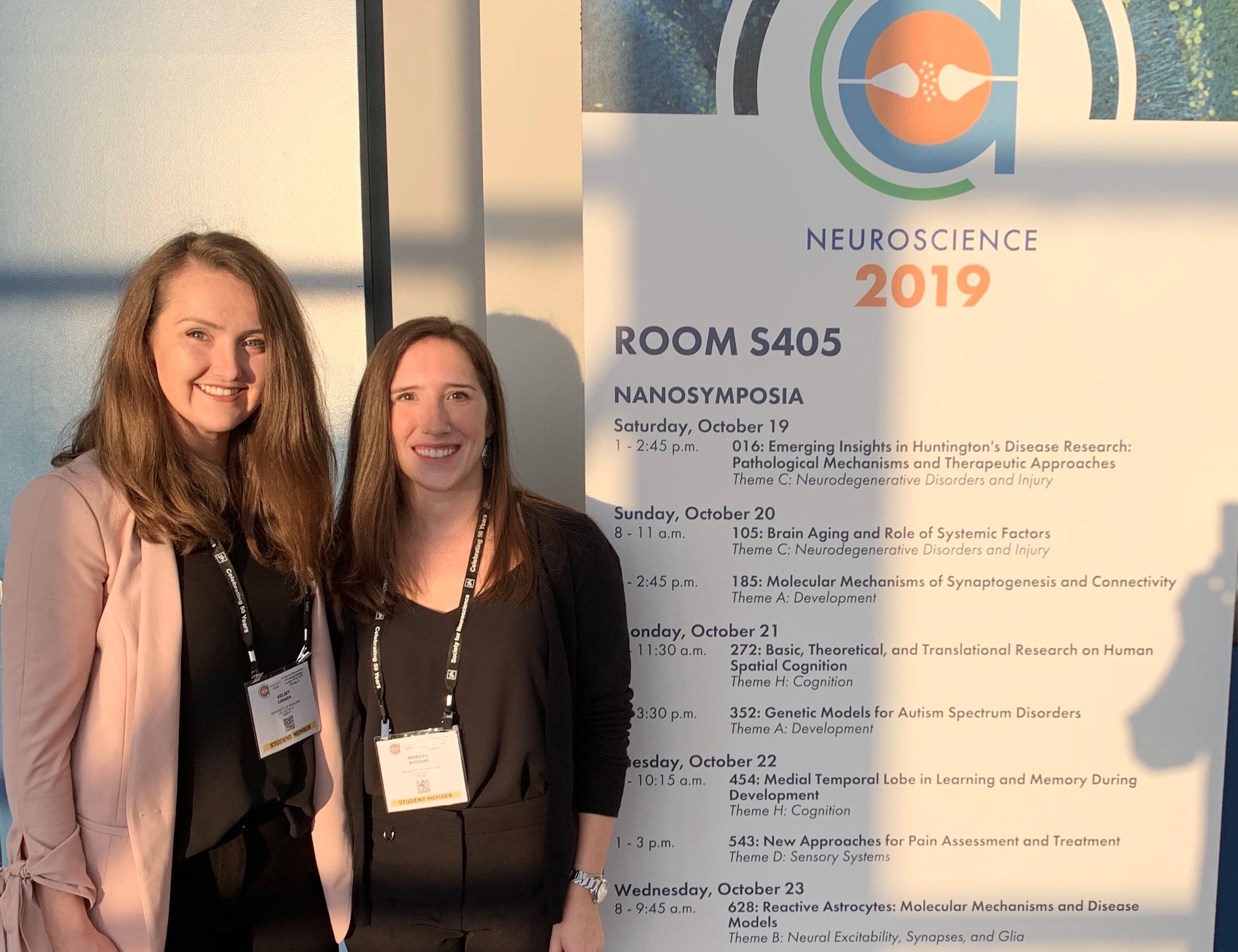 Society for Neuroscience 2019
Kelsey Canada and Morgan Botdorf attended Neuroscience 2019 in Chicago, IL.
Morgan presented her research on a network analysis of memory and attention networks in the brain at a nanosymposium.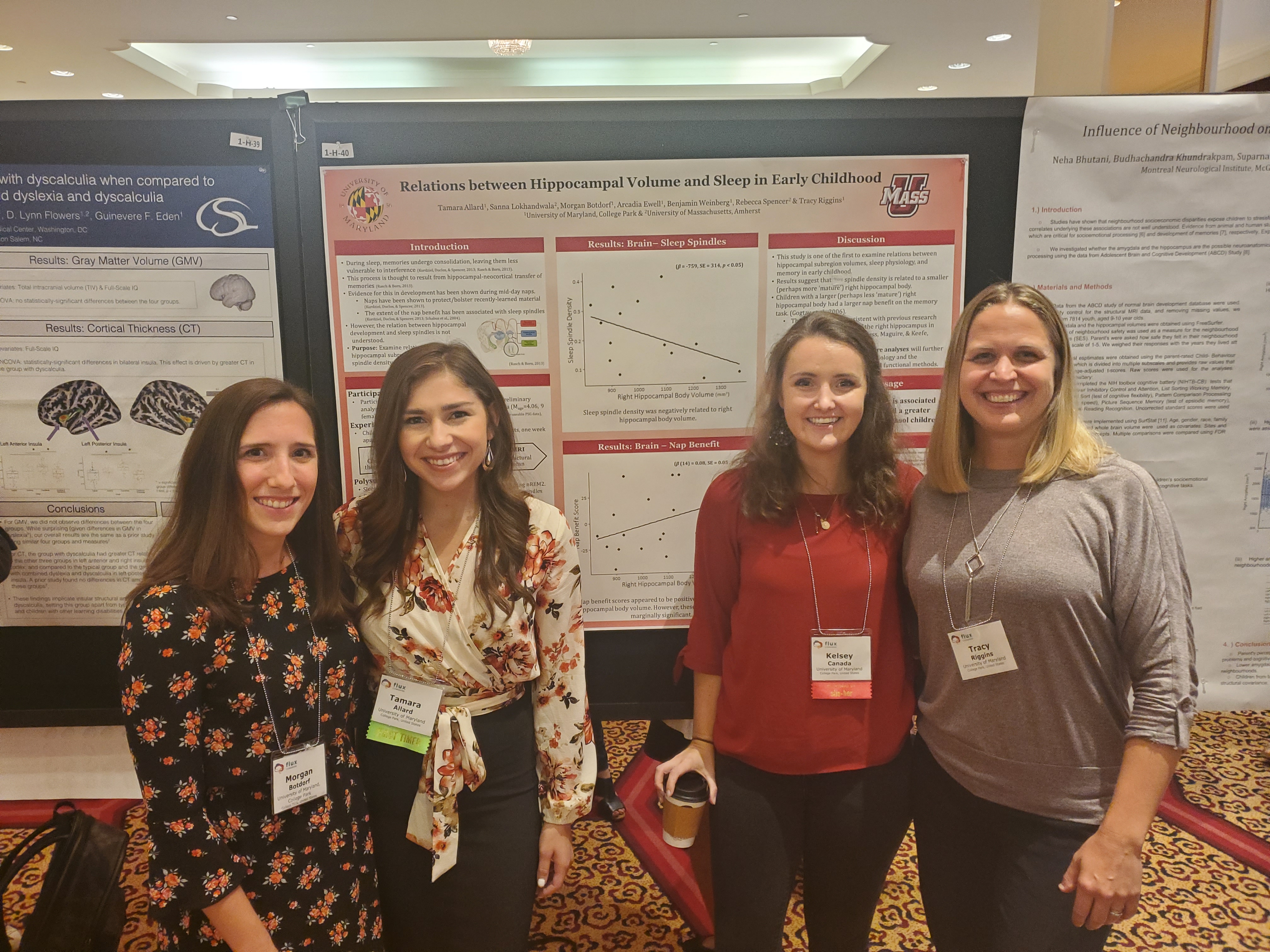 Flux: The Society for Developmental Cognitive Neuroscience
(Left to right) Morgan Botdorf, Tamara Allard, Kelsey Canada, and Tracy Riggins presented posters at the 2019 meeting of The Society for Developmental Cognitive Neuroscience.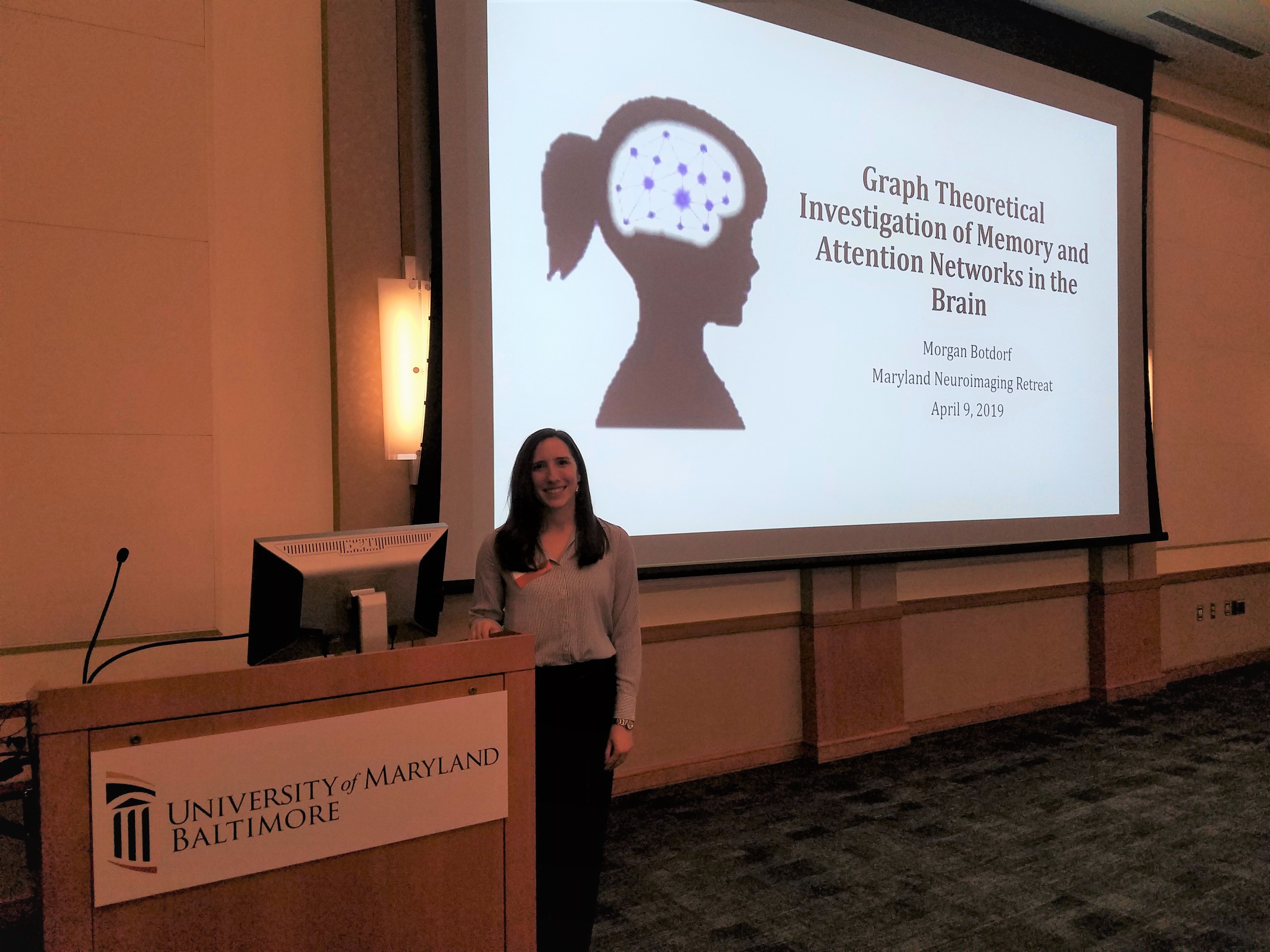 University of Maryland, Baltimore
Morgan Botdorf presented at the Maryland Neuroimaging Retreat 2019 held in Baltimore, MD. She presented information on developmental neuroscience using data collected in the Neurocognitive Development Lab using MRI.
Congratulations to our Spring 2019 graduating seniors!
Undergraduate lab members Lauren Rather, Olivia Antezana, Sarah Badawi, and Suejean Han have graduated from the University of Maryland. We're so proud of you all!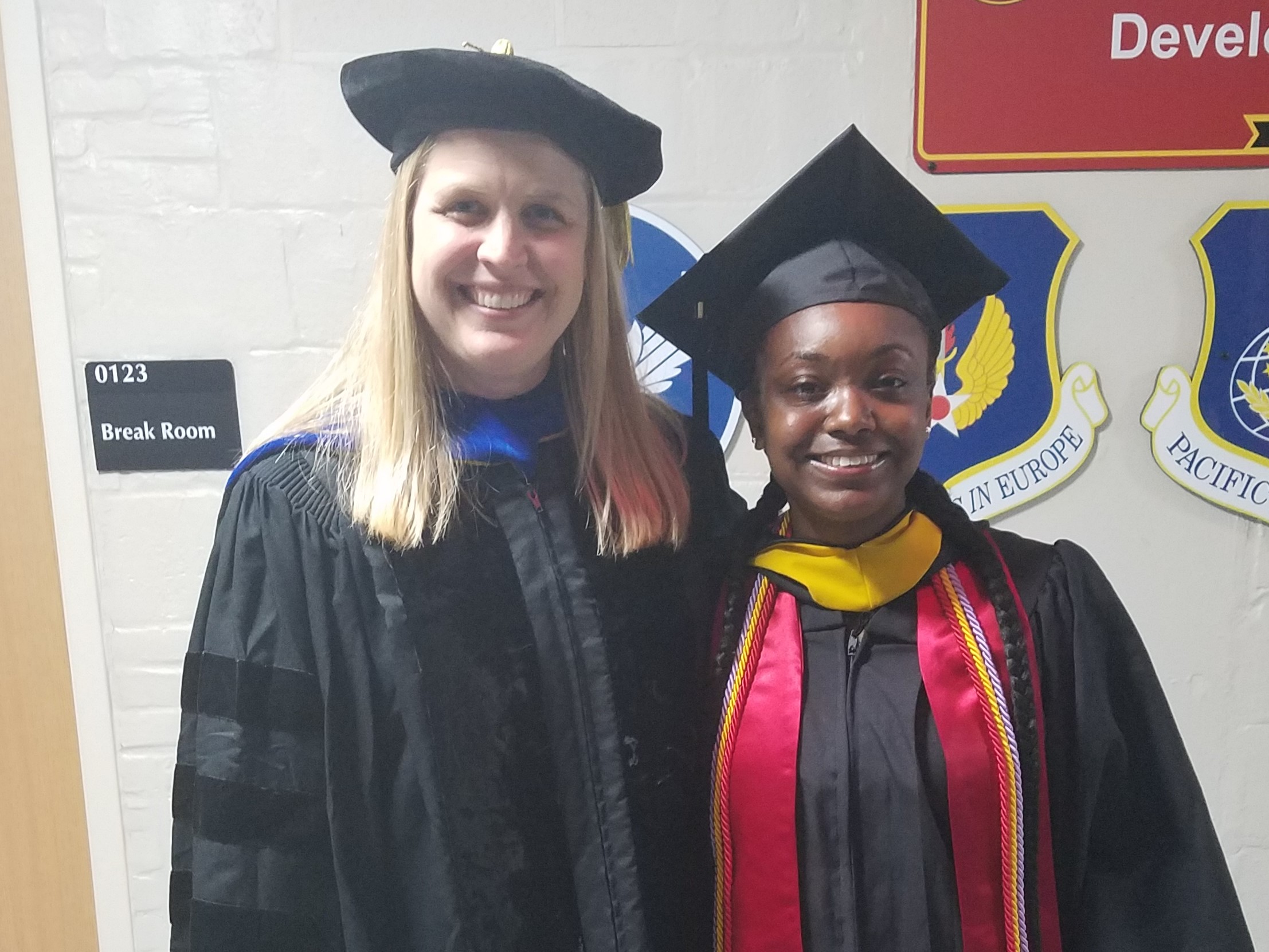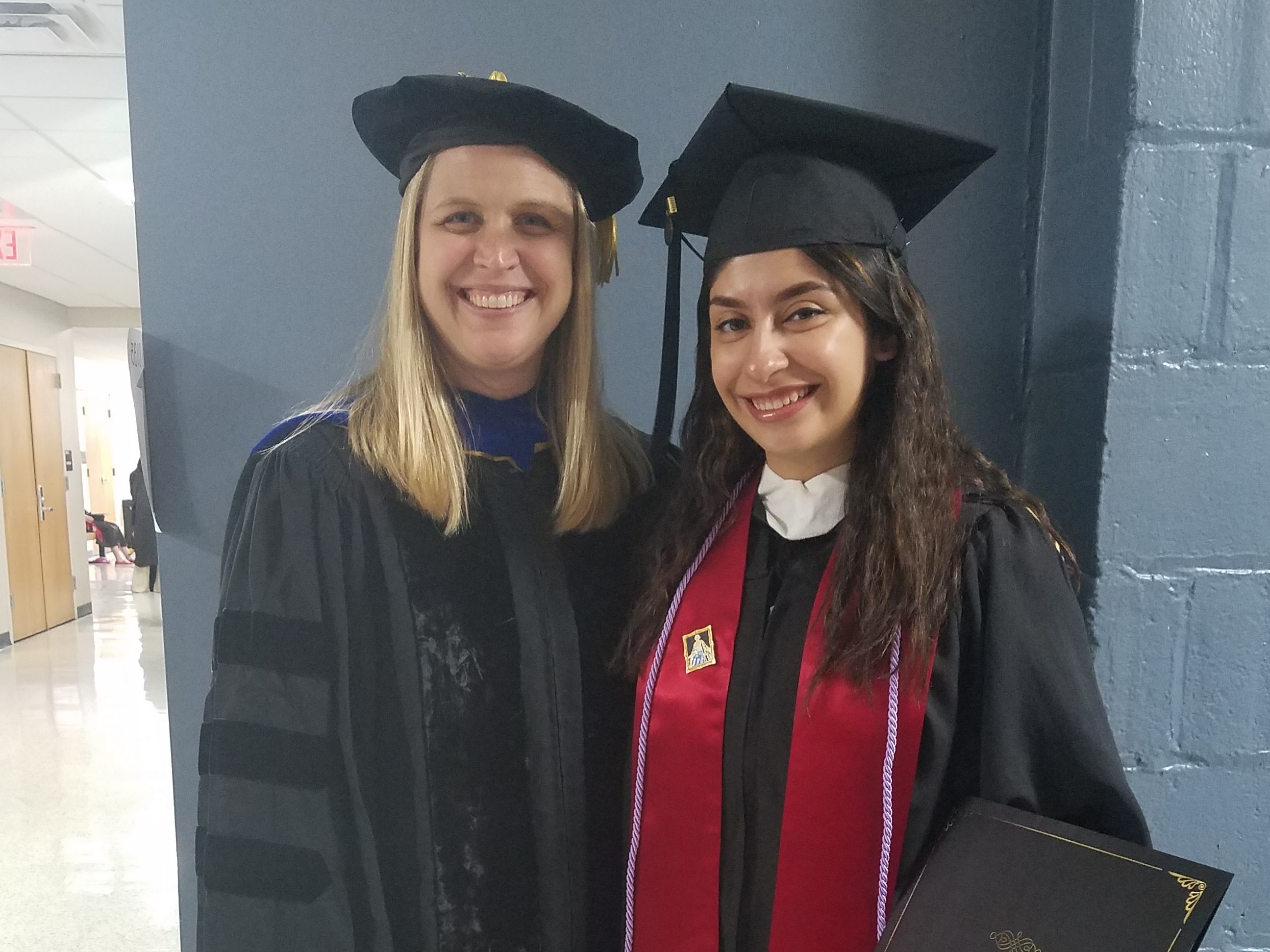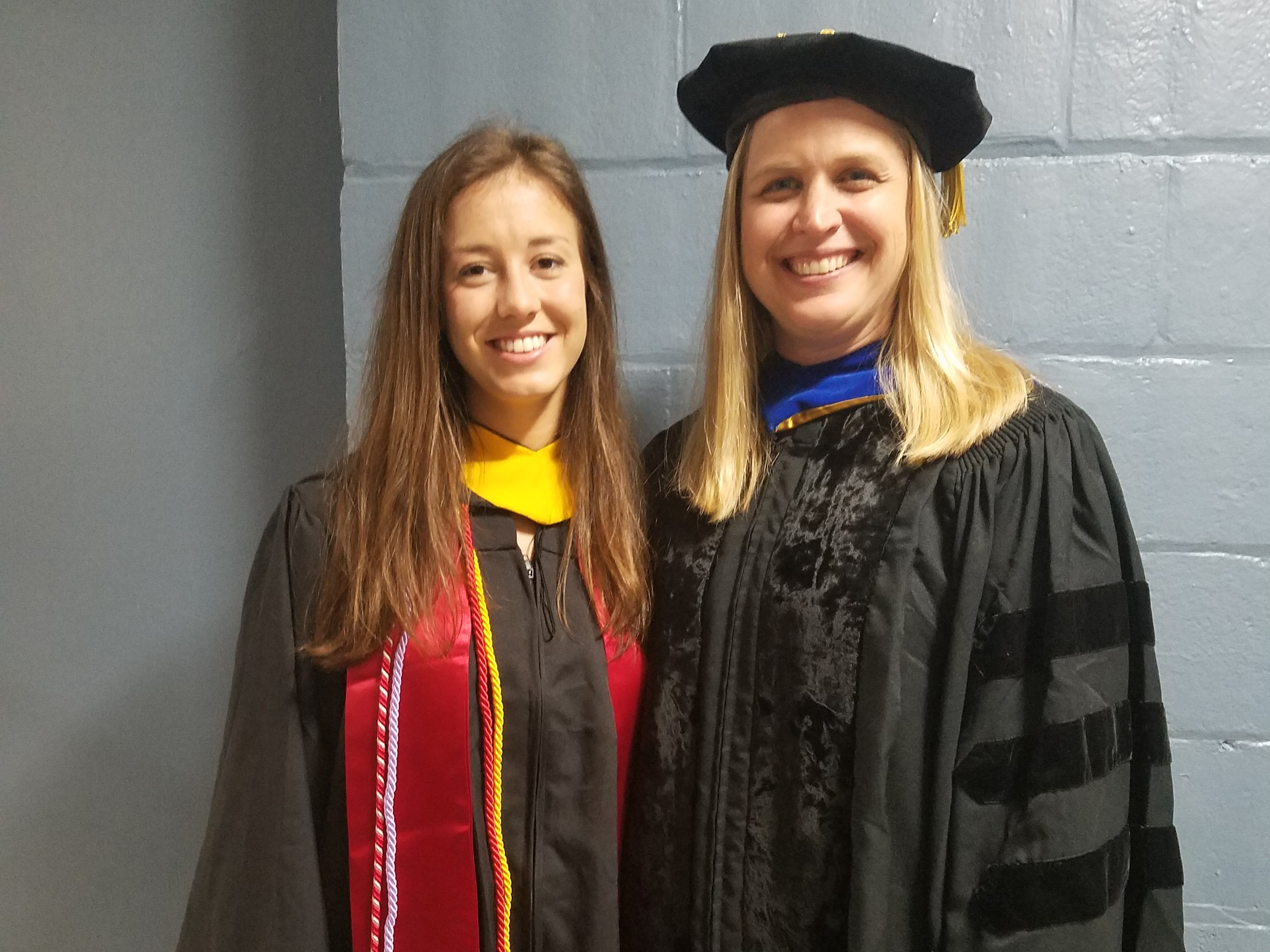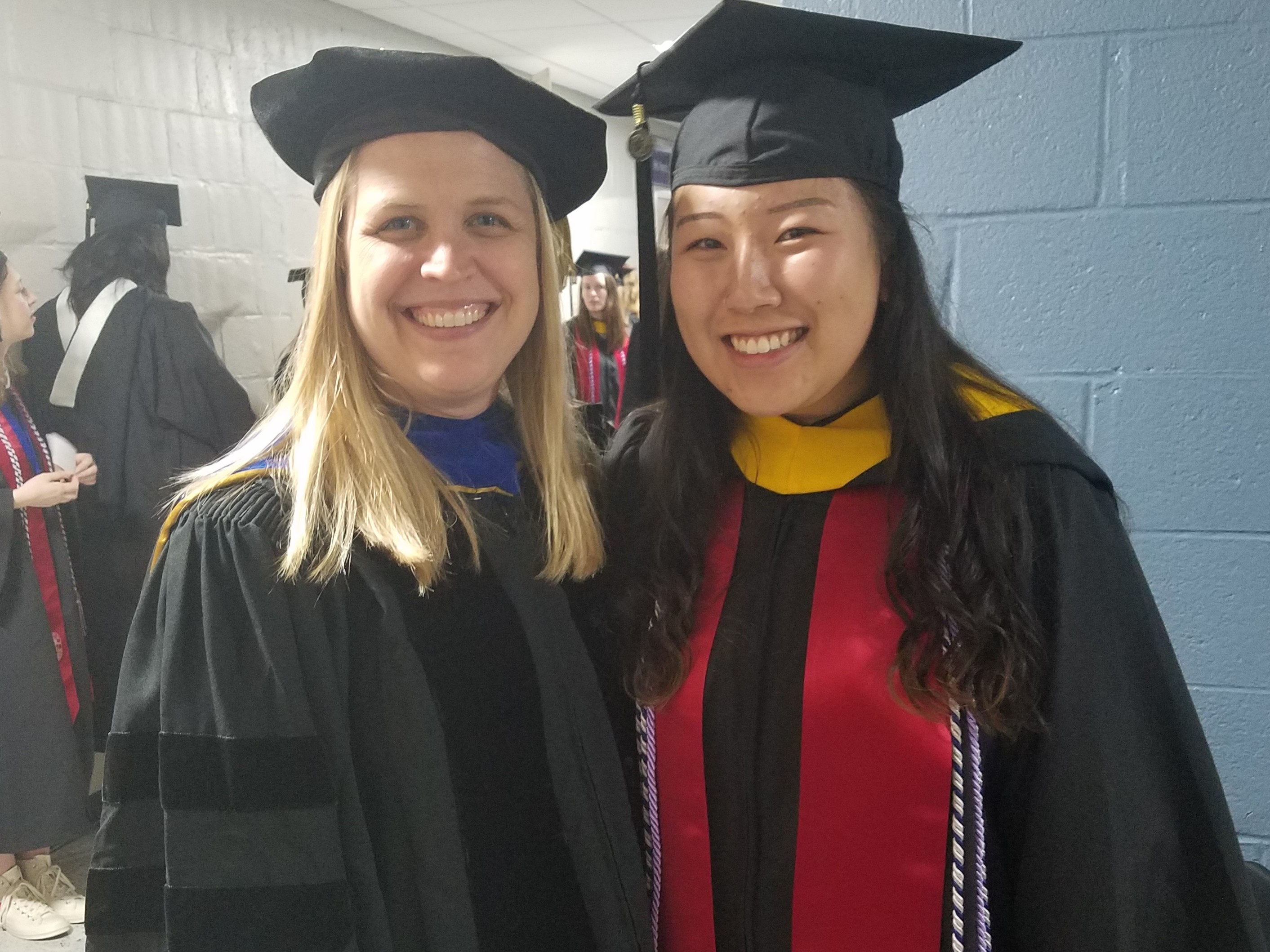 Congratulations to all of our undergraduates who presented at Psychology Research Day and Undergraduate Research Day 2019!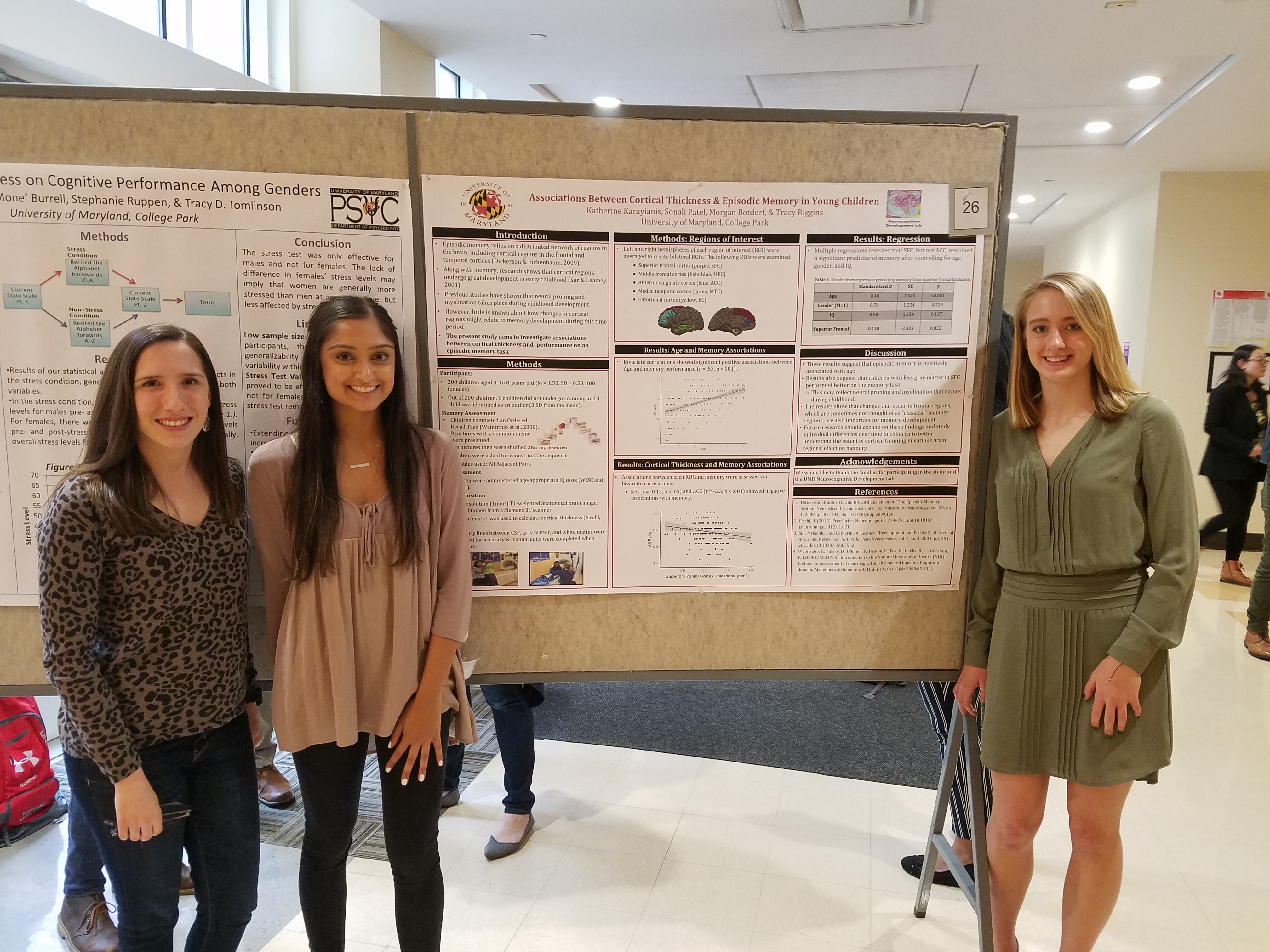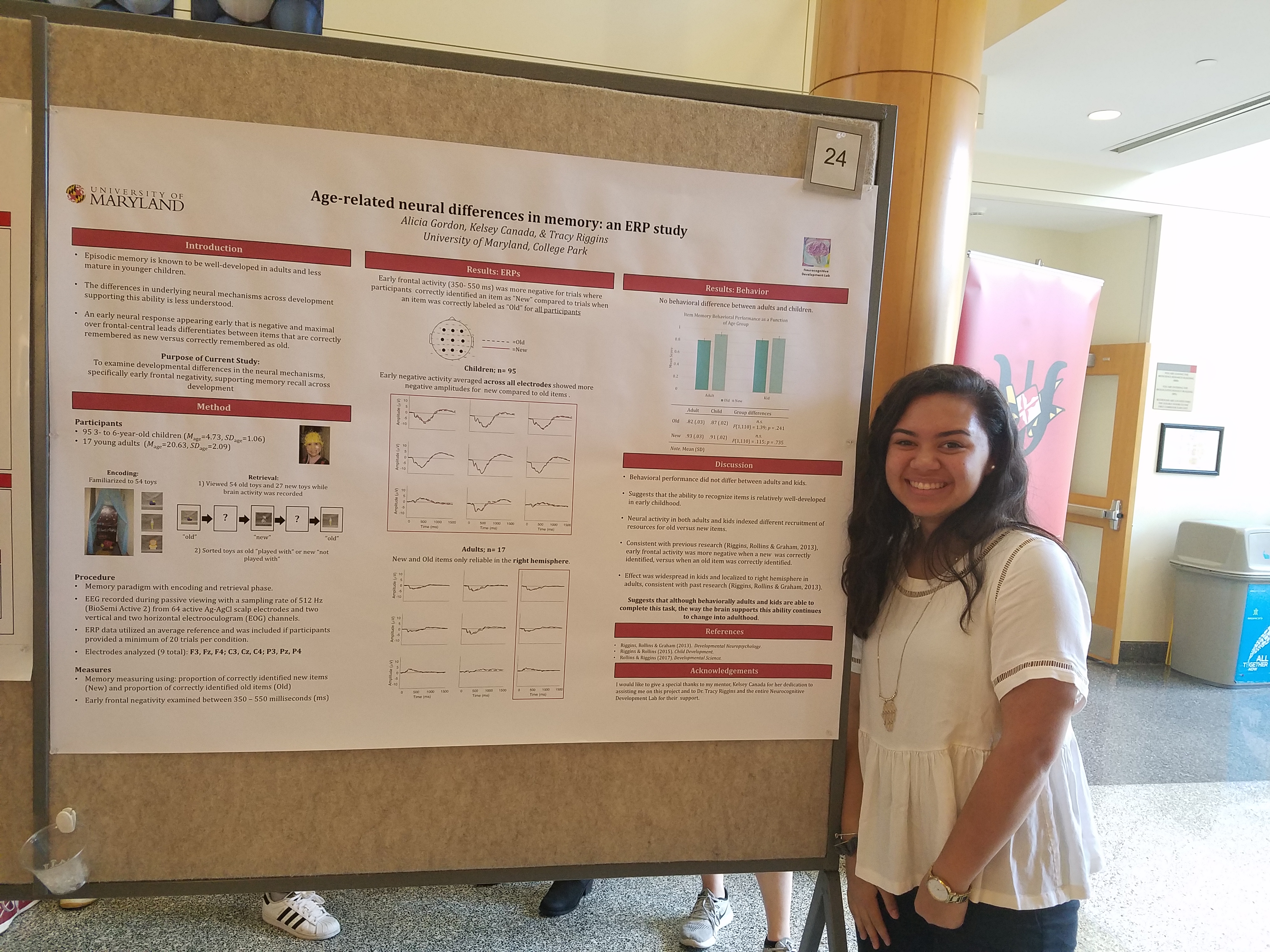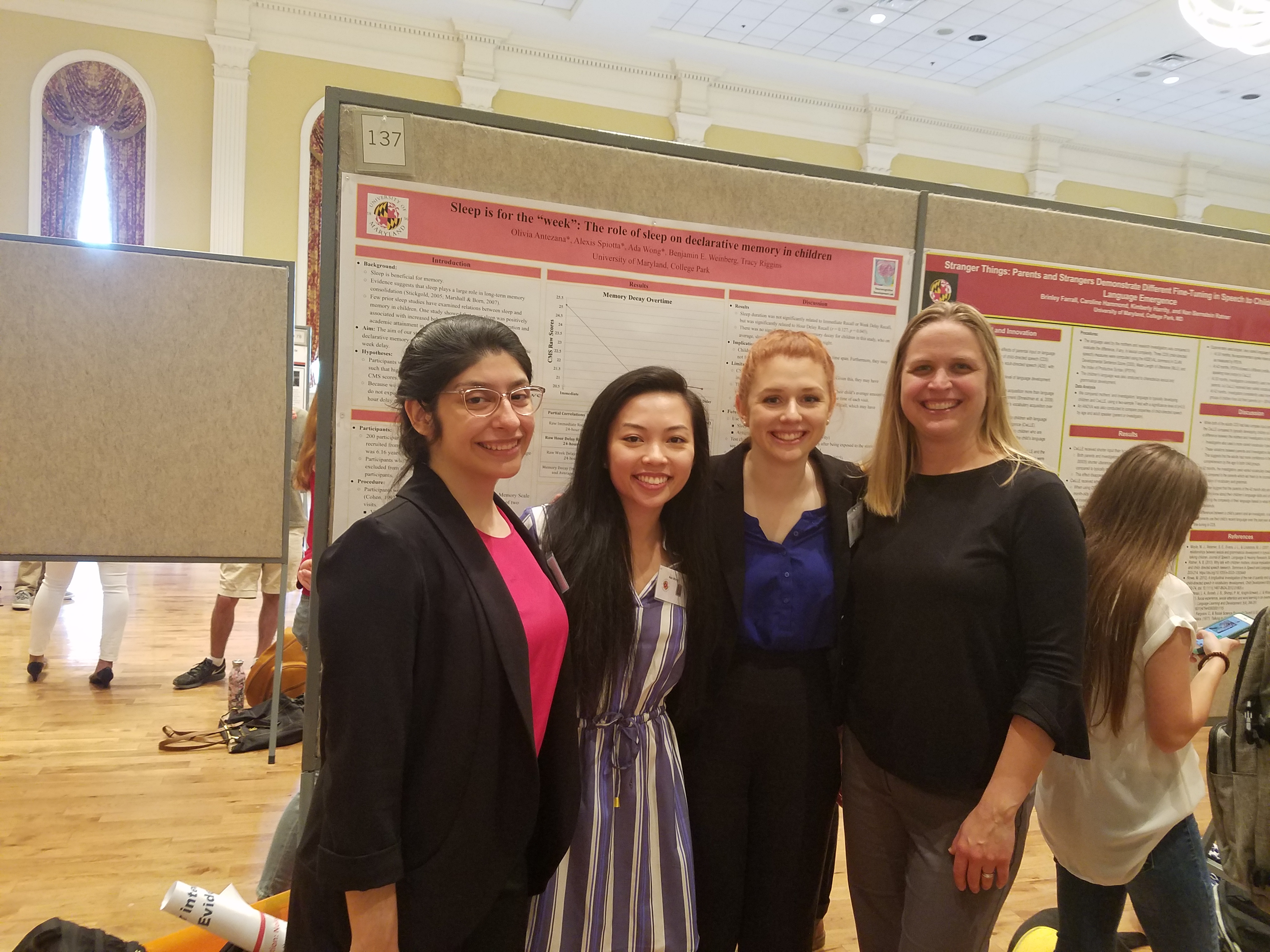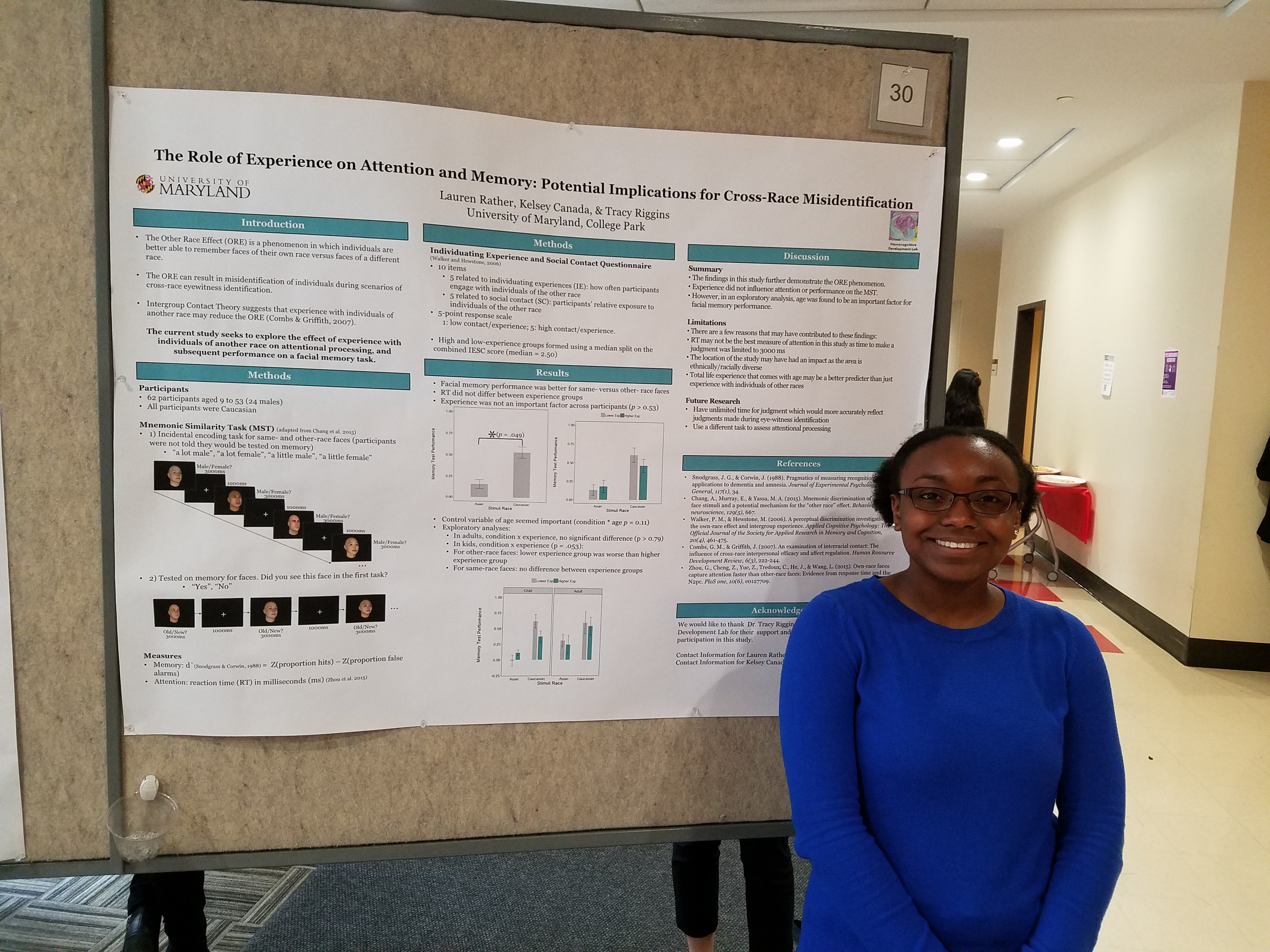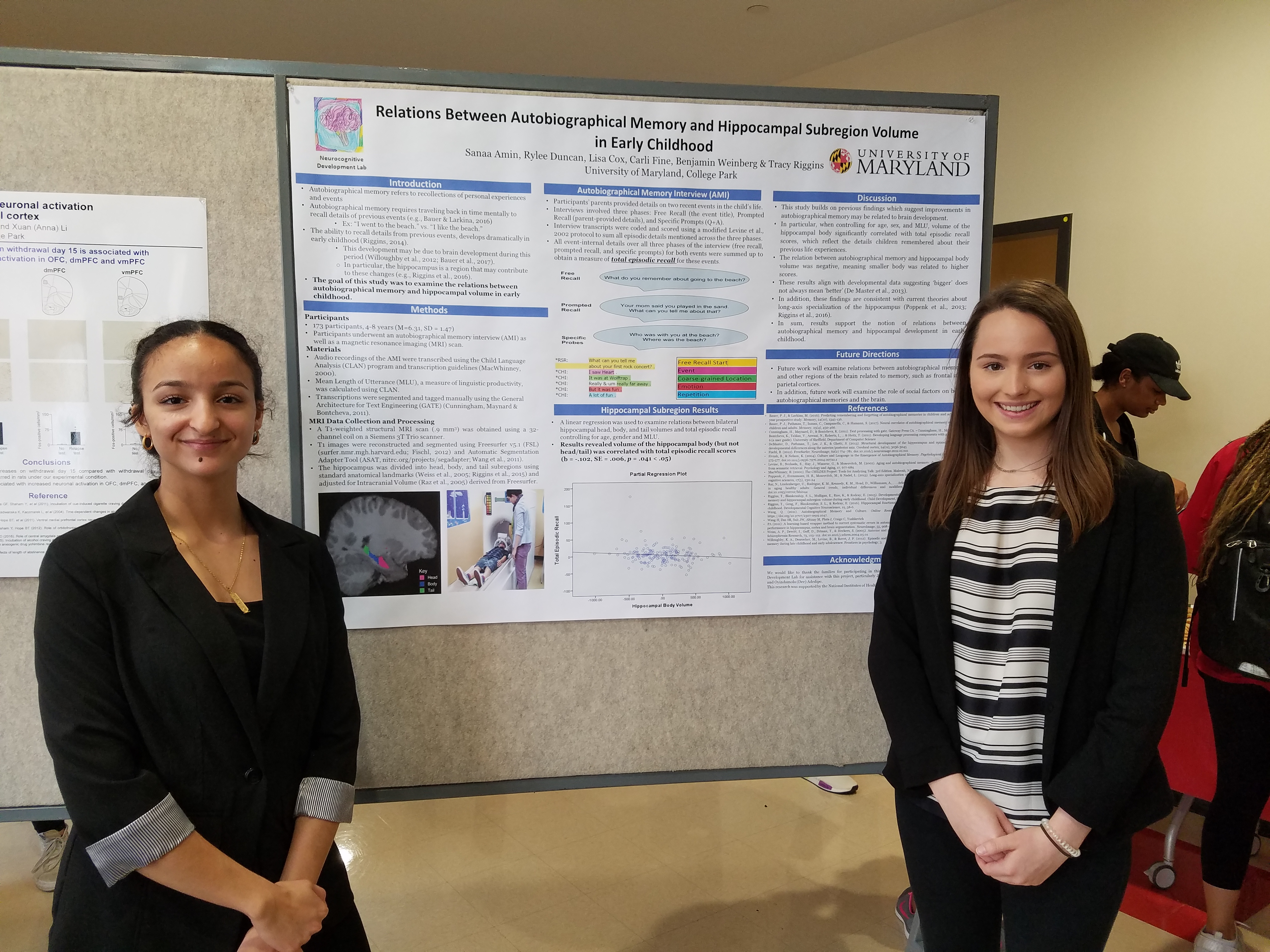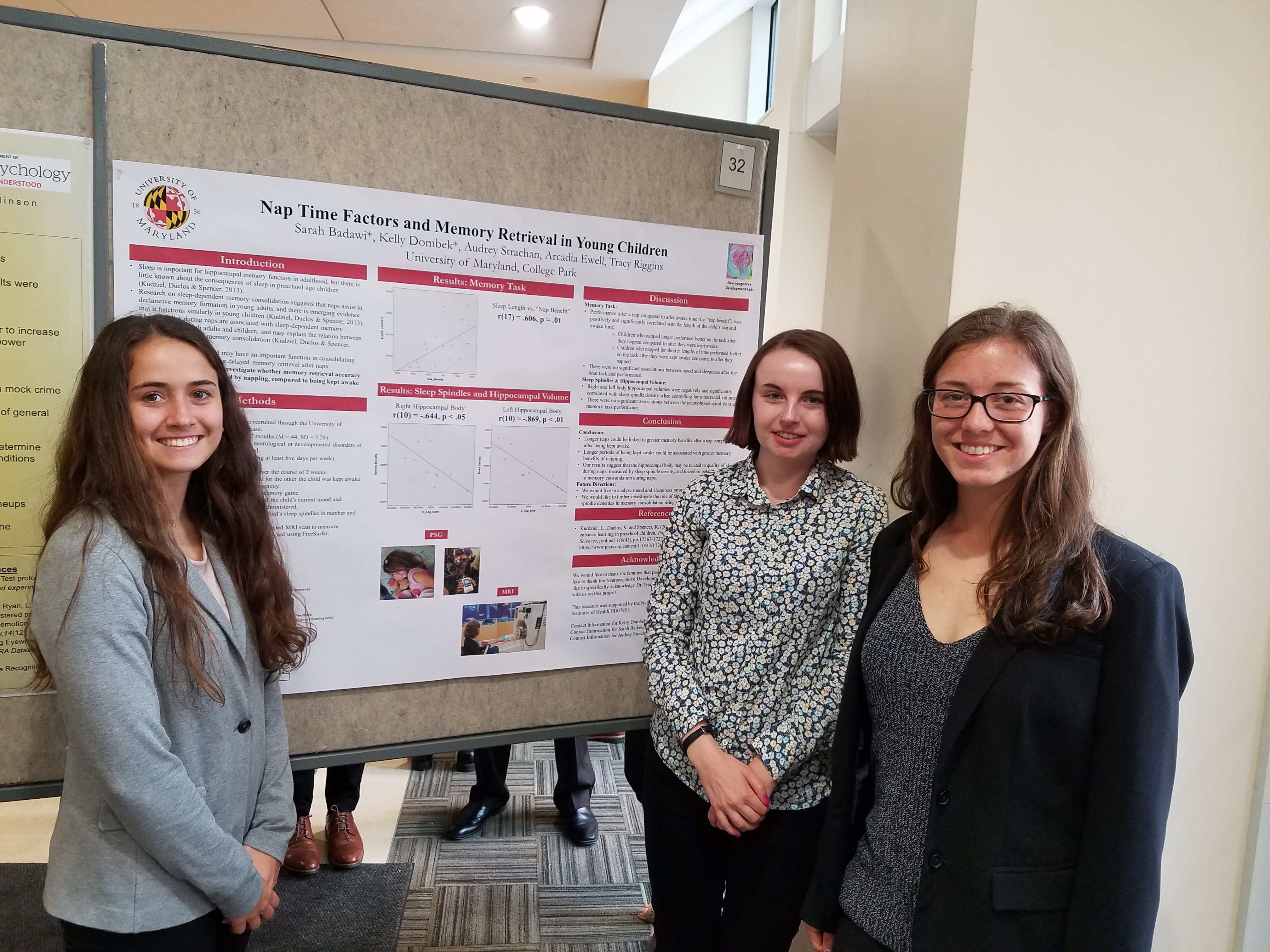 Read more about their research projects HERE
Congratulations to Morgan Botdorf on her graduate thesis defense!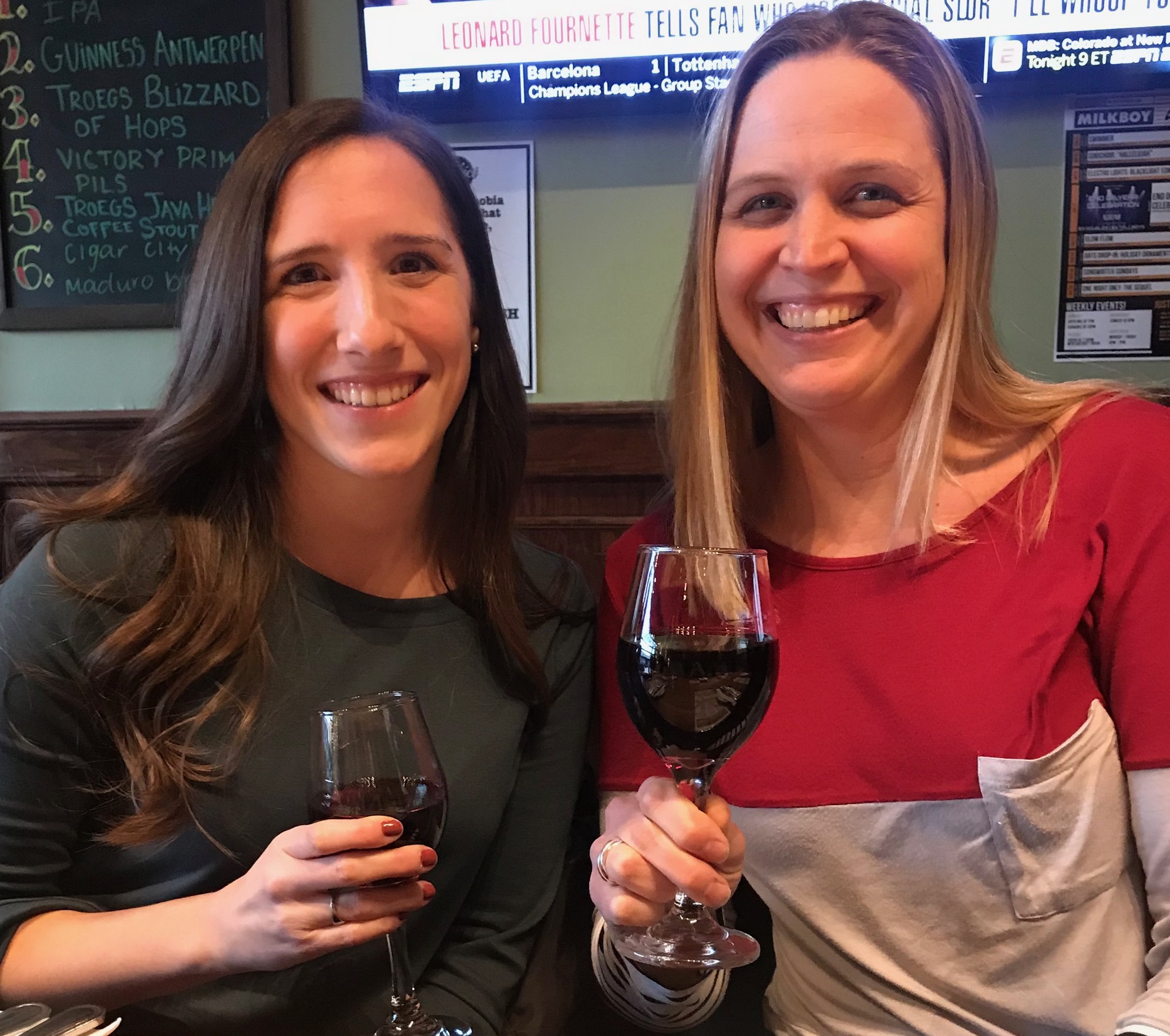 Morgan Botdorf, a second-year graduate student in the Neurocogntive Development Lab defended her thesis, entitled "Development of the Episodic Memory Network in Early Childhood: Insights from Graph Theoretical Analysis." Congrats Morgan!
New Paper on Hippocampal Development in NeuroImage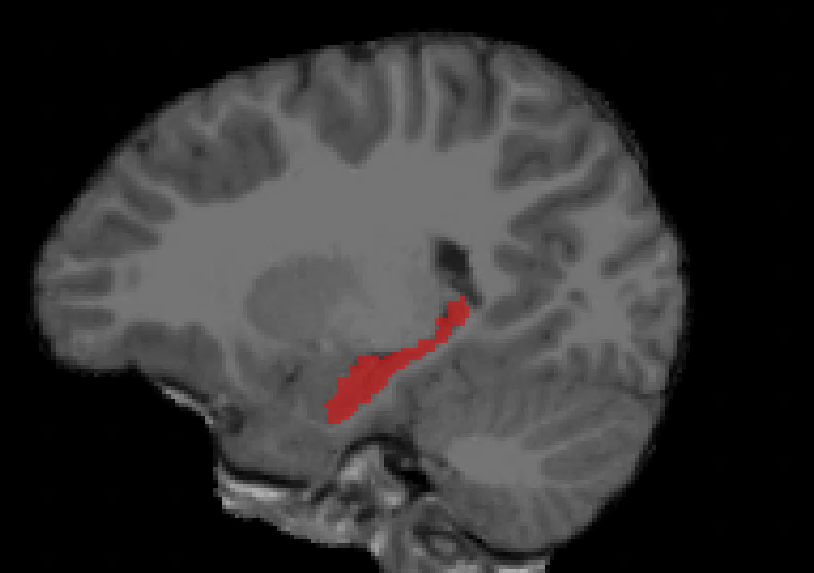 The NCDL has just published a study in the journal NeuroImage with findings from our Kid Brain Study! We have learned a lot about children's brains and how they support memory.
We found that in younger kids, from about 4-6 years of age, a bigger hippocampus is associated with better episodic memory. But in older kids, 6-8 years of age, a smaller hippocampus is associated with better memory. This "transition" might occur because as the brain matures, the connections become more efficient. In other words, unnecessary or unused connections go away, leading to smaller (but better connected) brain structures. Interestingly, this was only true for the parts of the hippocampus that take the longest to develop and are most closely related to memory in adults.
This is exciting because this is one of the first studies to look at the relation between the hippocampus and memory development in kids as young as 4 years of age! If you're interested in reading more, see the full article here.
Graduation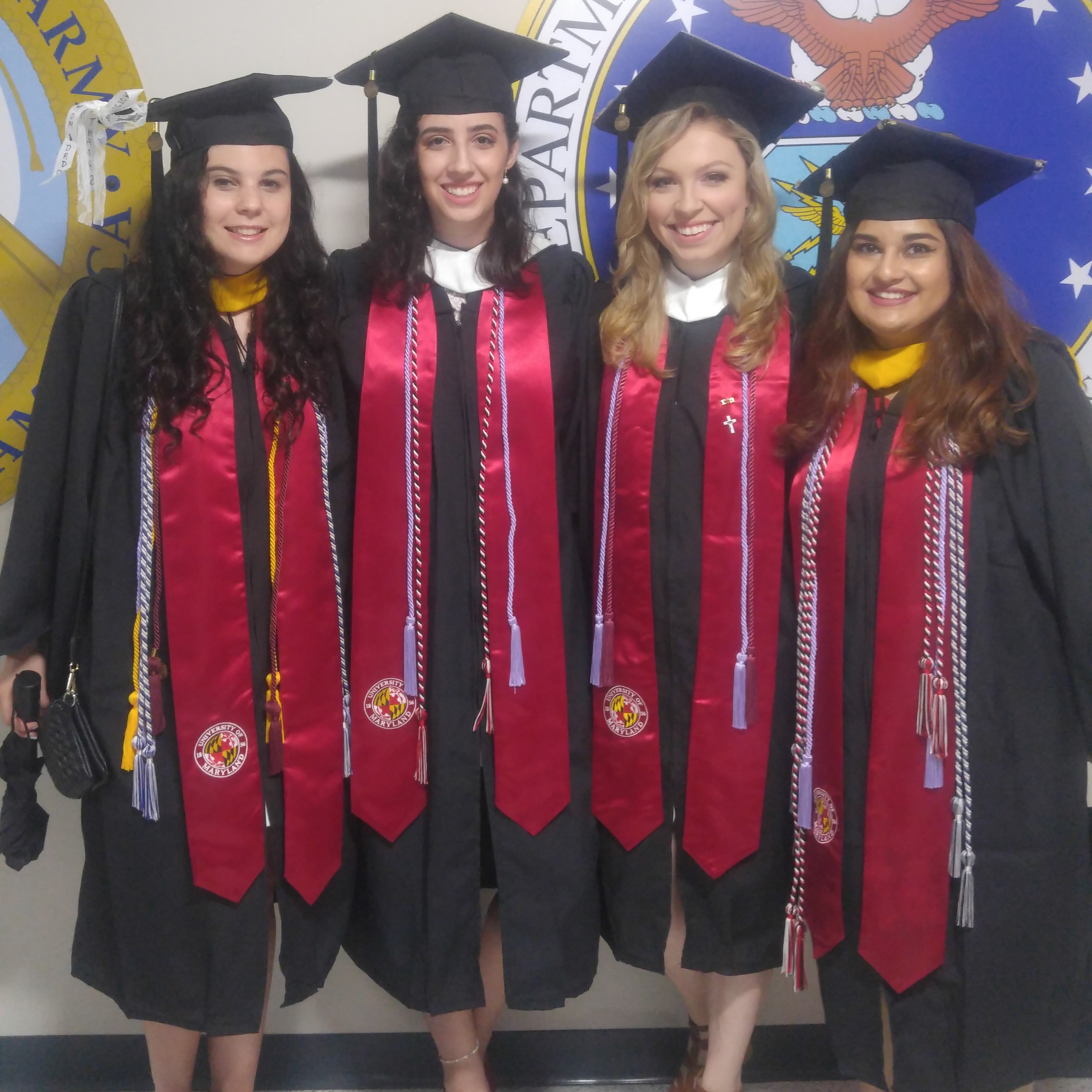 Congratulations to our graduating seniors!
Elizabeth Dolin, Kelly Walsh, Arcadia Ewell, and Nimra Naeem (L to R).
Liz will be attending Pace University's School-Cliical Child Psychology graduate program, Kelly received the Oustanding Accomplishments in Psychology Award and will pursue her Ed.S in School Psychology at the University of Delaware, and Arcadia will be staying with the NCDL as a full-time lab manager and research assistant! We are so glad to have had all of you in the lab!
Recent Conference Presentations

International Conference on Learning and Memory
Kelsey Canada (far left), Tracy Riggins (far right), and Morgan Botdorf (not pictured) presented talks and met up with collaborators from Temple University at the International Conference on Learning and Memory in Huntington Beach, CA.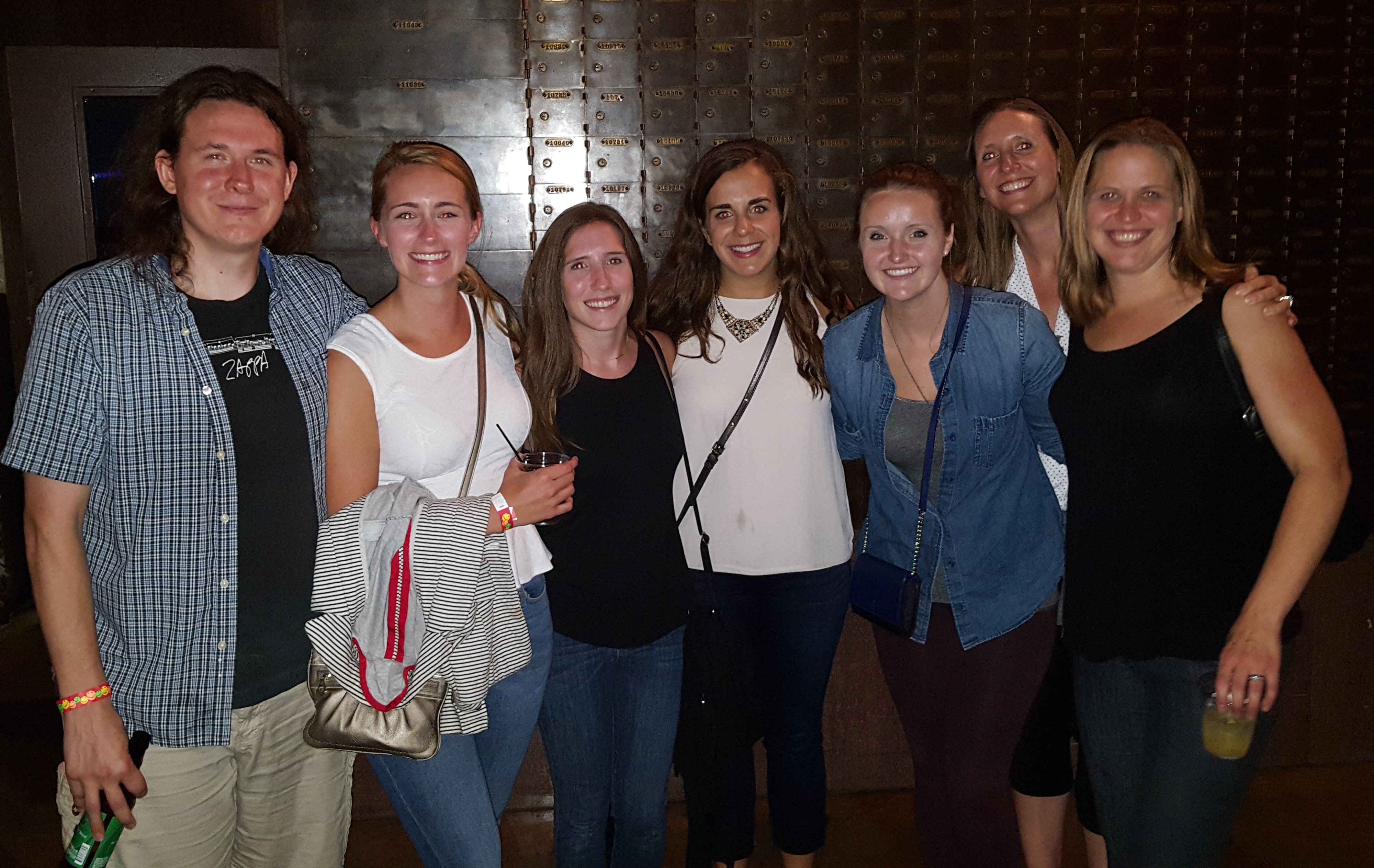 Flux: The Society for Developmental Cognitive Neuroscience
Sarah Blankenship, Morgan Botdorf, Kelsey Canada, Tracy Riggins, and Fengji Geng (not pictured) presented posters at the 2016 meeting of The Society for Developmental Cognitive Neuroscience.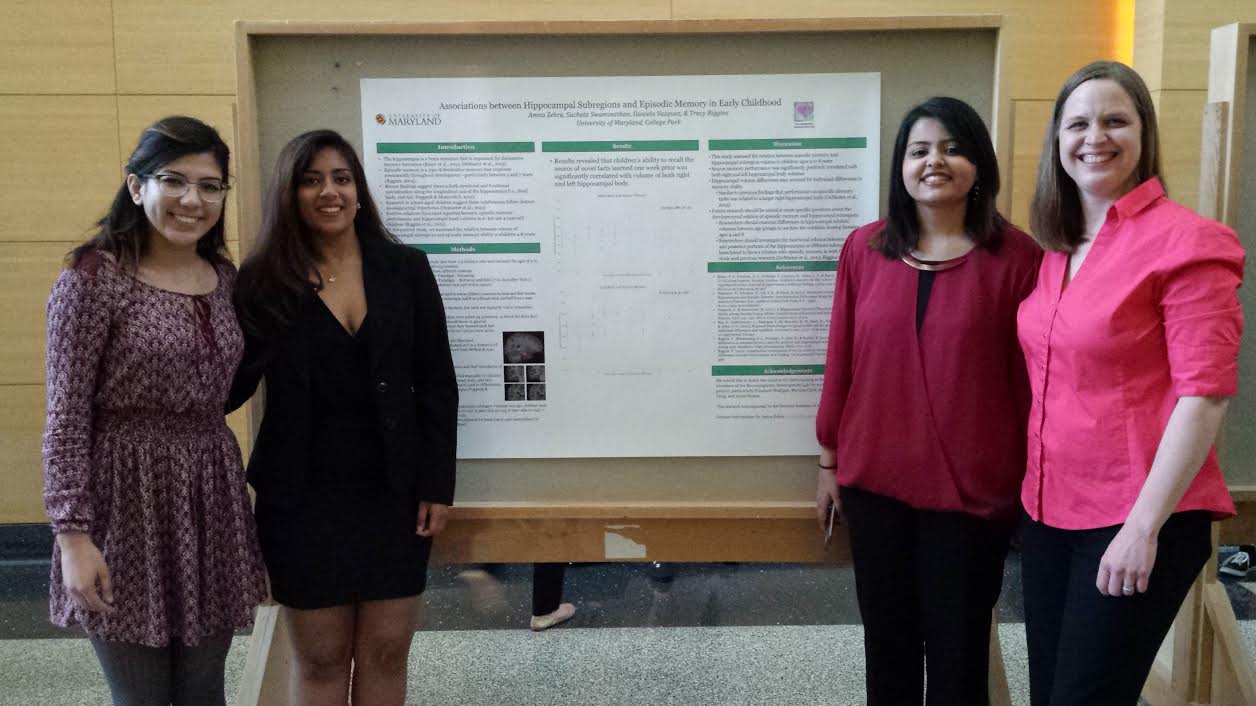 Amna Zehra, Sucheta Swaminathan and Daniela Vazquez
Associations between Hippocampal Subregions and Episodic Memory in Early Childhood
PSYC Terp Research Fair and Undergraduate Research Day
Recent Awards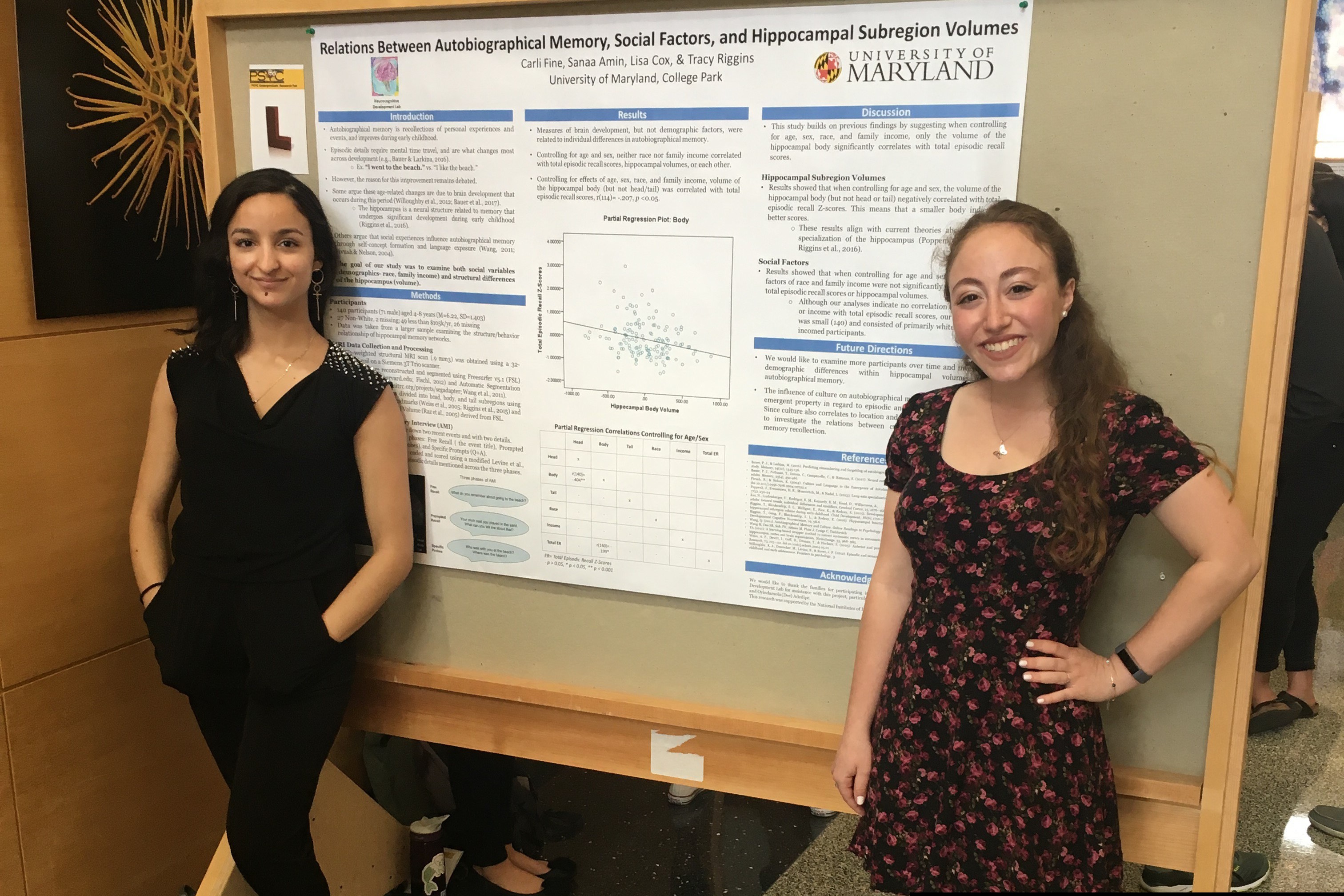 Undergraduate Research Assistants Sanaa Amin (L) and Carli Fine (R) won the 2018 Gold Award at the Psychology Undergraduate Research Fair, for their poster 'Relationships between autobiographical memory, social factors, and hippocampal subregion volumes.'
Kelly Walsh, an Undergraduate Research Assistant in the lab, received the 2018 Oustanding Accomplishments in Psychology Award. She will be recognized at the PSYC Commencement ceremony and will receive a certificate and a $50 award.
Graduate Student Morgan Botdorf has won a National Science Foundation Graduate Research Fellowship. Congratulations to Morgan, whose research will now be supported by NSF!
Undergrauate Research Assistant Amna Zehra has won the 2016 Mark S. Harper Award for Excellence in Psychology. She will recieve a plaque at commencement ceremony and will be seated with the platform party on stage.
Graduate Student Sarah Blankenship won the Graduate Dean's Dissertation Fellowship for academic year 2016-17. She will spend the next year devoting her full attention to research, scholarly, and creative work directly related to her dissertation.
New Article in Terp Magazine about NCDL Research
"Unreachable Memories: Psychology Researchers Study Brain Connections in Early Childhood"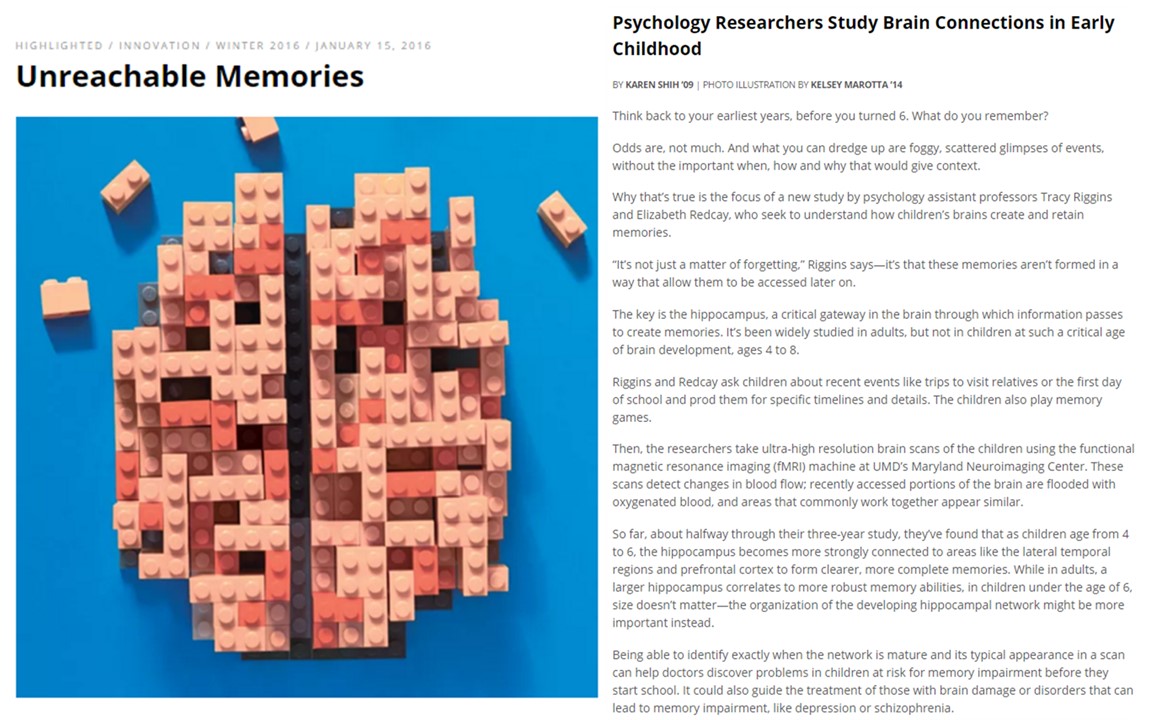 An article about our Hippocampal Memory Networks project just came out in Terp magazine detailing some of our preliminary findings.
Recent Publication from the NCDL
As children get older, their ability to remember the details of life events (the when, where, and why, also known as 'episodic' memory) shows striking improvement. However, neural changes related to this improvement in memory are not well understood. This is particularly true in young children from whom neural measures are difficult to collect.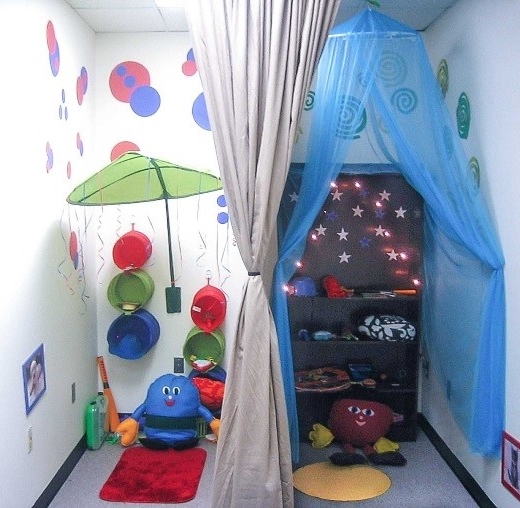 To address this gap the present study examined associations between children's episodic memory ability and volume of a brain structure known to support this type of memory in school-aged children and adults called the 'hippocampus'. Specifically, 4- and 6-year-old children played a memory game in which they were asked to interact with toys in two different rooms. For each toy children learned a novel action associated with the toy (they either put it on their head, beat it like drum, or hugged it). Memory for the toys, their location, and the action associated with them was tested after a delay. In addition, volume of the hippocampus was measured from MRI scans by extracting the size of three subregions in this structure, referred to as the head, body, and tail.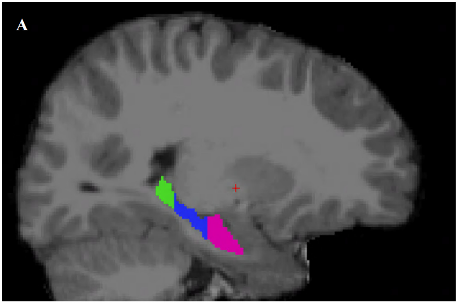 Results revealed significant positive relations between episodic memory ability and volume of the hippocampal head for 6- but not 4-year-old children. This pattern suggests that developmental changes in the hippocampus may underlie the striking improvements in memory ability seen in young children. These findings are important because they provide evidence of developmental changes in brain-behavior relations in very young children. Ultimately, these findings may prove useful in the creation of interventions to improve learning and memory in young children in both educational and clinical settings.
Birth Announcement!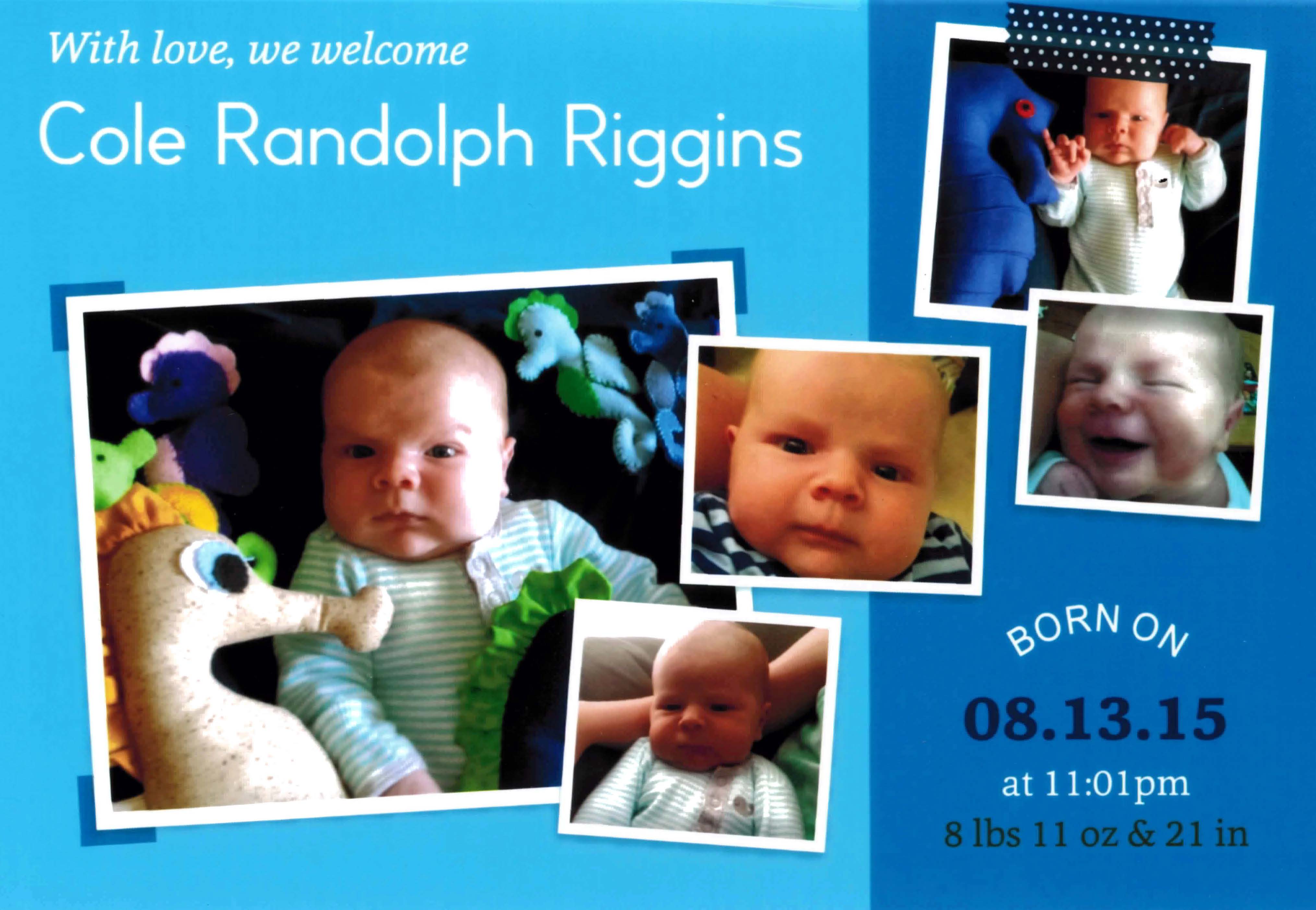 2015 Awards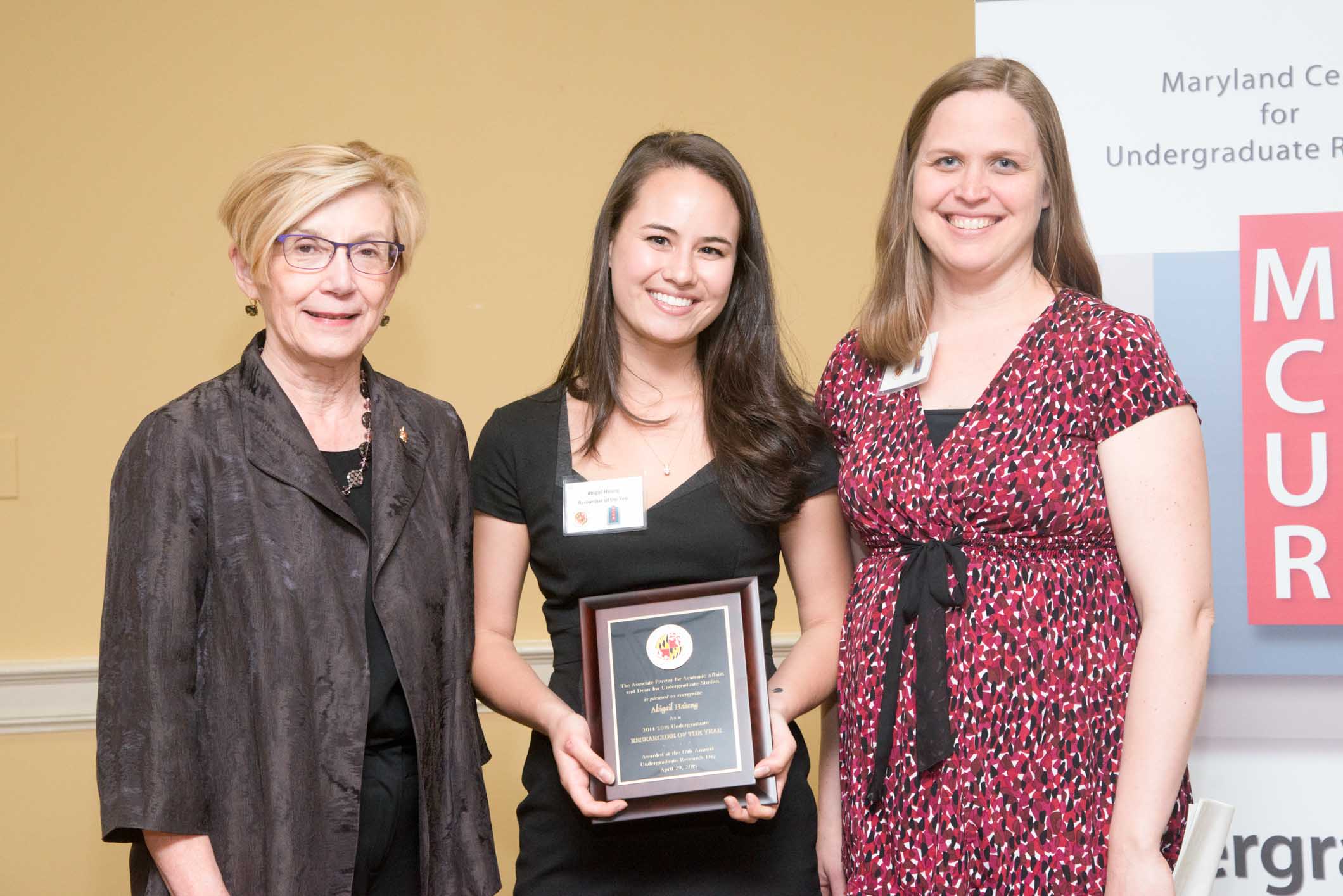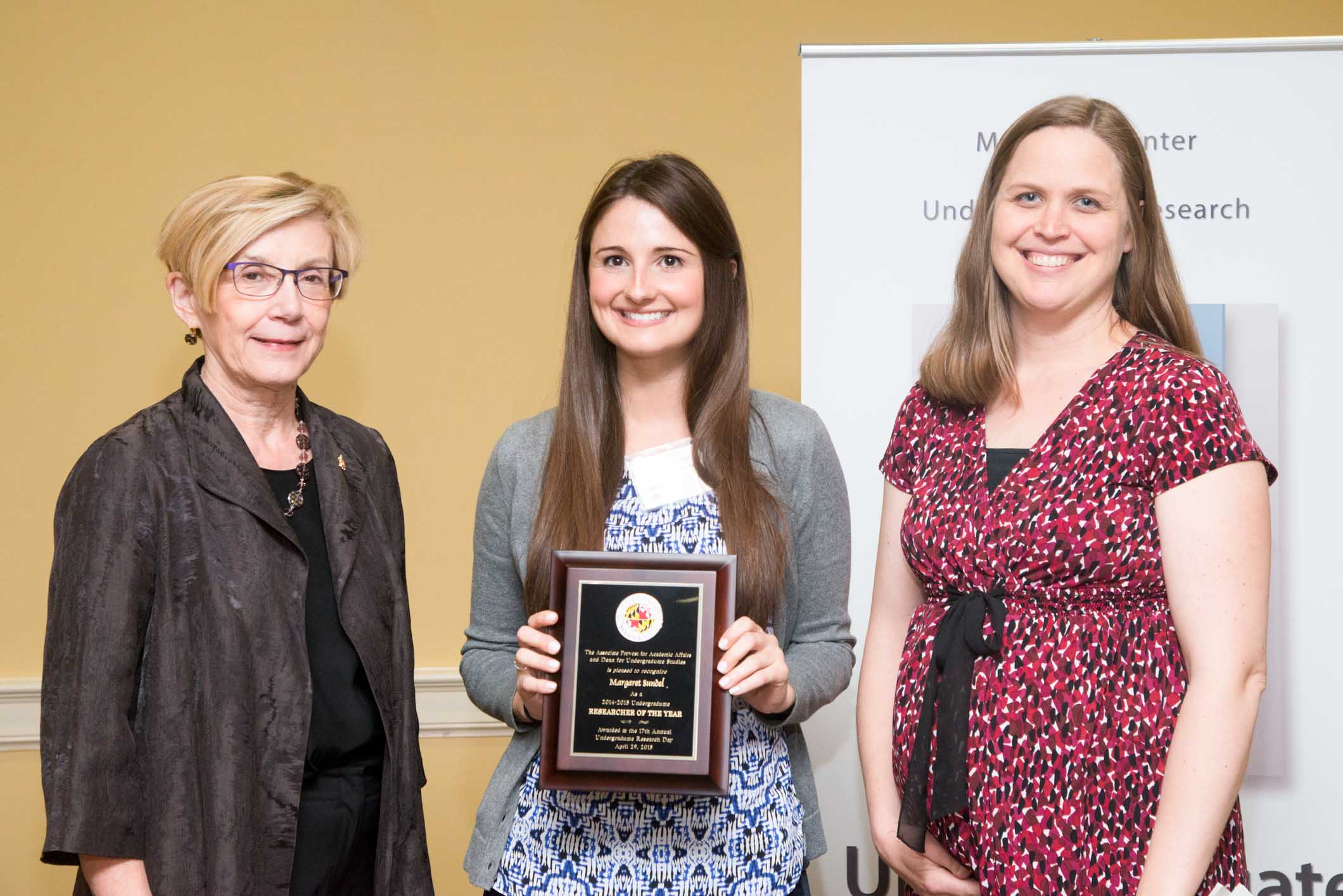 Abby Hsiung and Margaret Sundel were awarded the title of UMD's Undergraduate Researchers of the Year for 2015. This honor came with an award of $1,000, a commemorative plaque and inclusion in the opening ceremonies for Undergraduate Research Day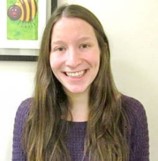 Alison Gruber
(Outstanding PSYC Terp Award 2015)
Abby Hsiung
(Outstanding PSYC Terp Award 2015)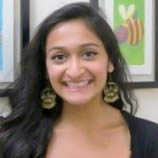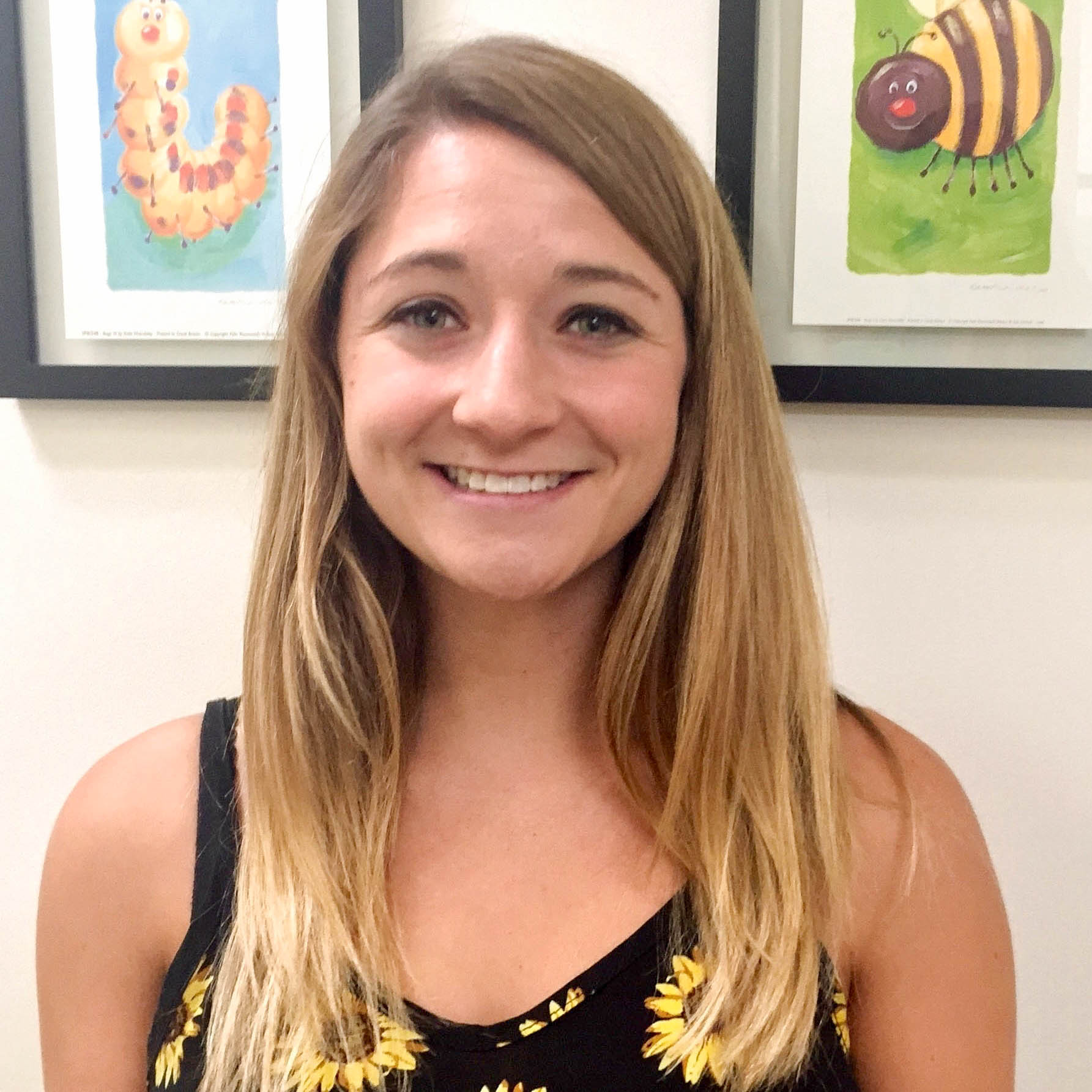 Pooja Patel
(Outstanding PSYC Terp Award 2015)
Jennifer Sloane
(2015 Mark S. Harper Award for Excellence in Psychology)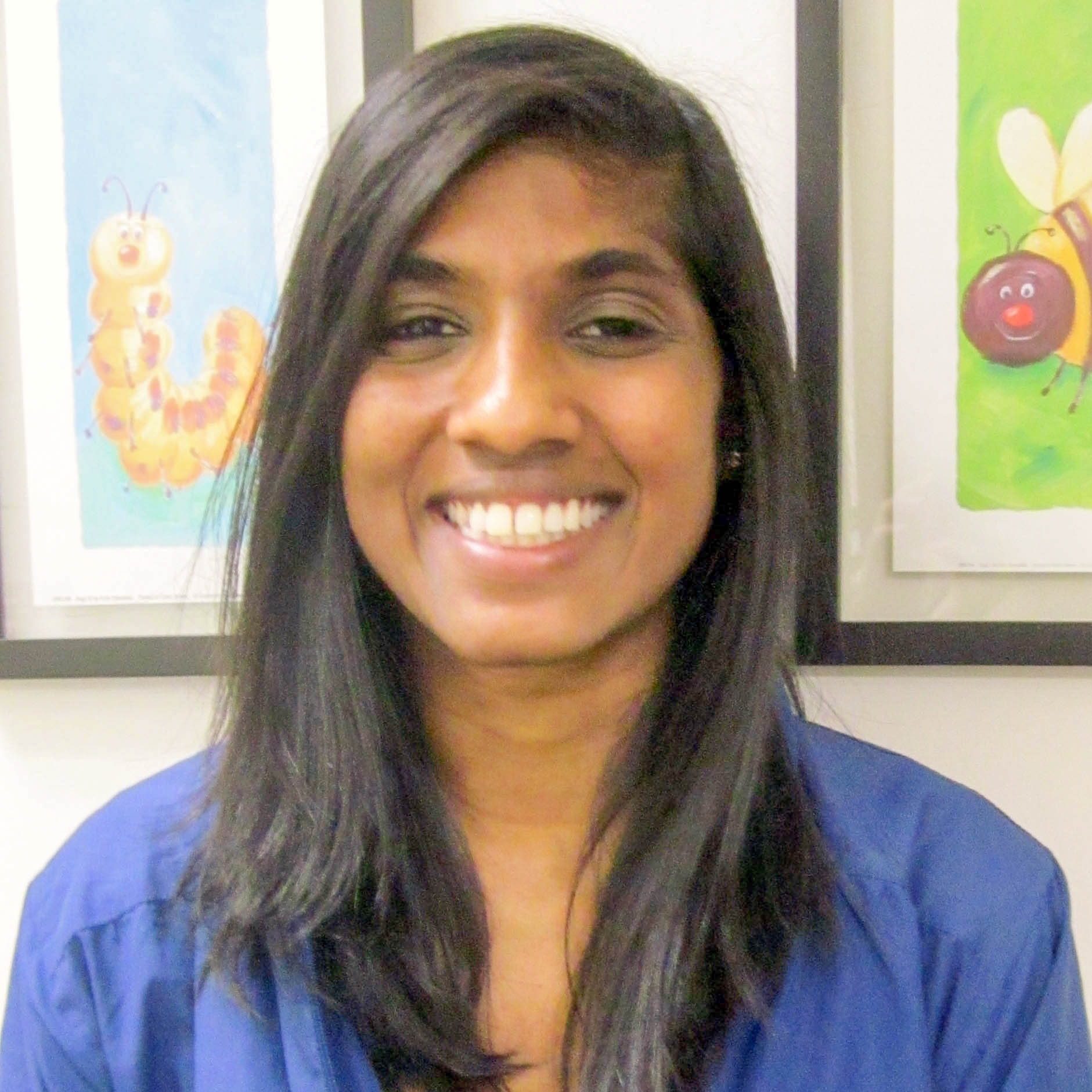 Agnes Varghes
(Award for Excellence in Student Leadership 2015)
Sarah Blankenship
(Phi Delta Gamma Graduate Fellowship)
2015 Posters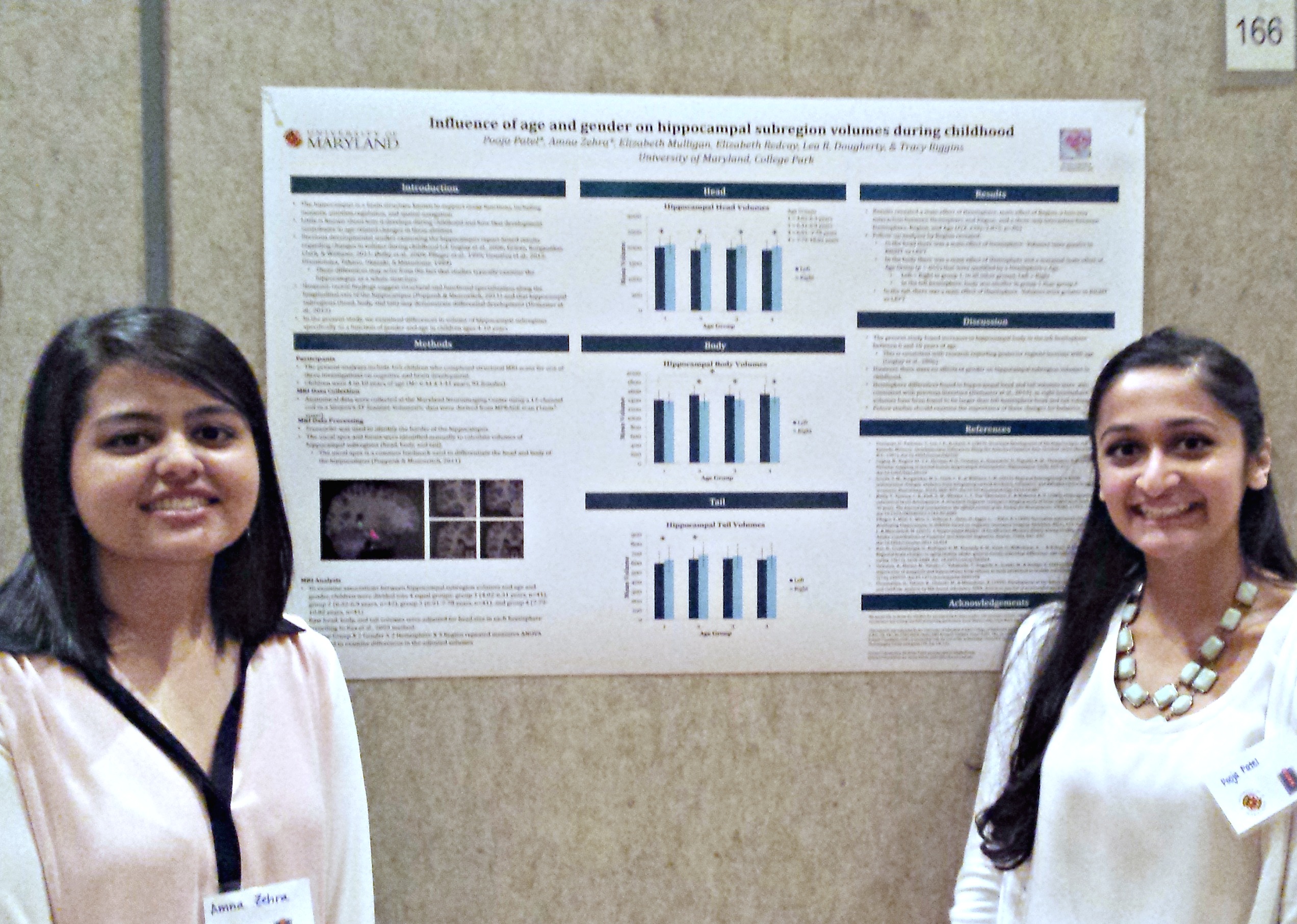 Pooja Patel and Amna Zahra
Influence of age and gender on hippocampal subregion volumes during childhood
2015 University of Maryland, Undergraduate Research Day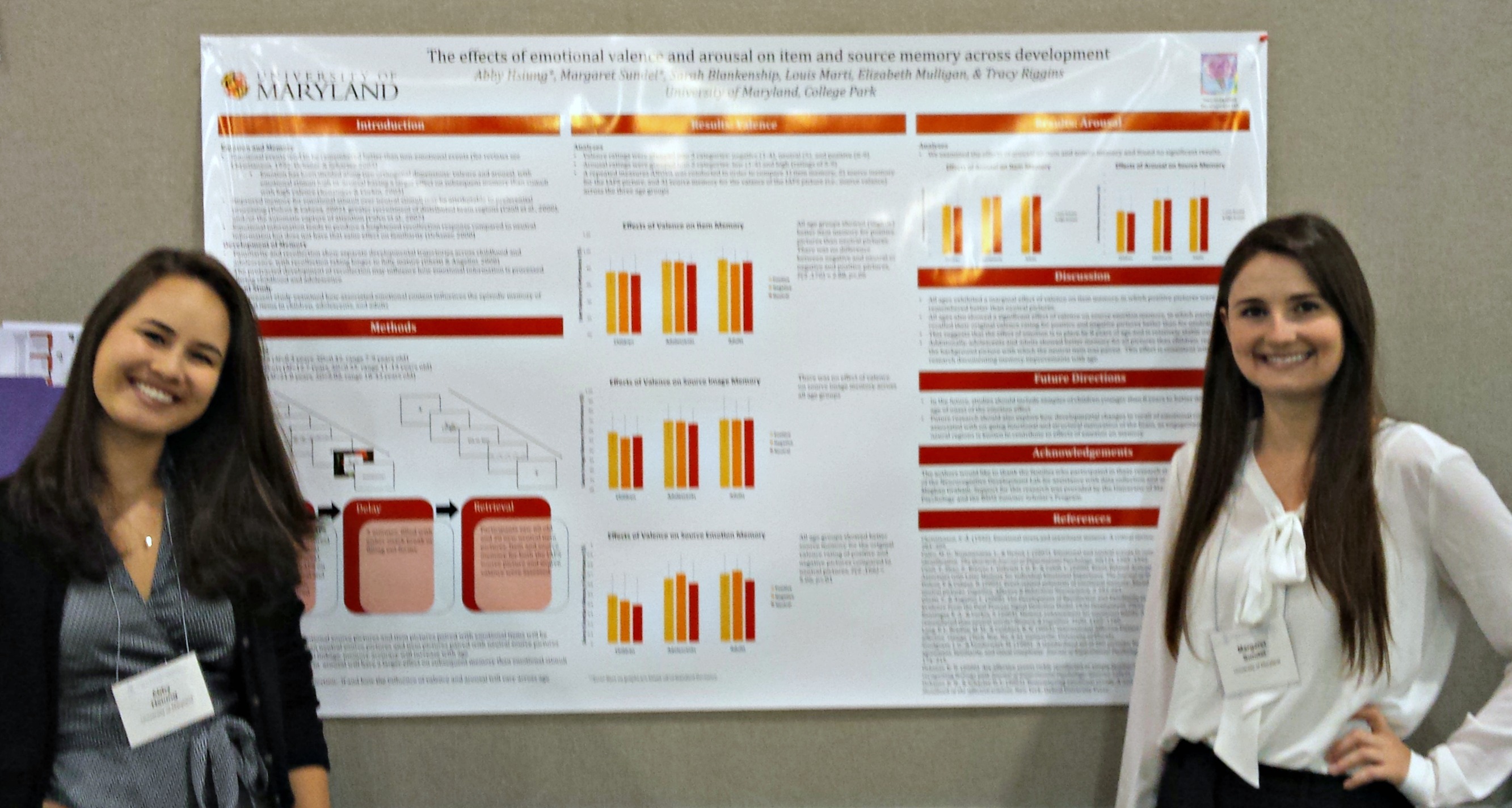 Abby Hsuing and Margaret Sundel
The effects of emotional valence and arousal on item and source memory across development
2015 Society for Research on Child Development Philadelphia, PA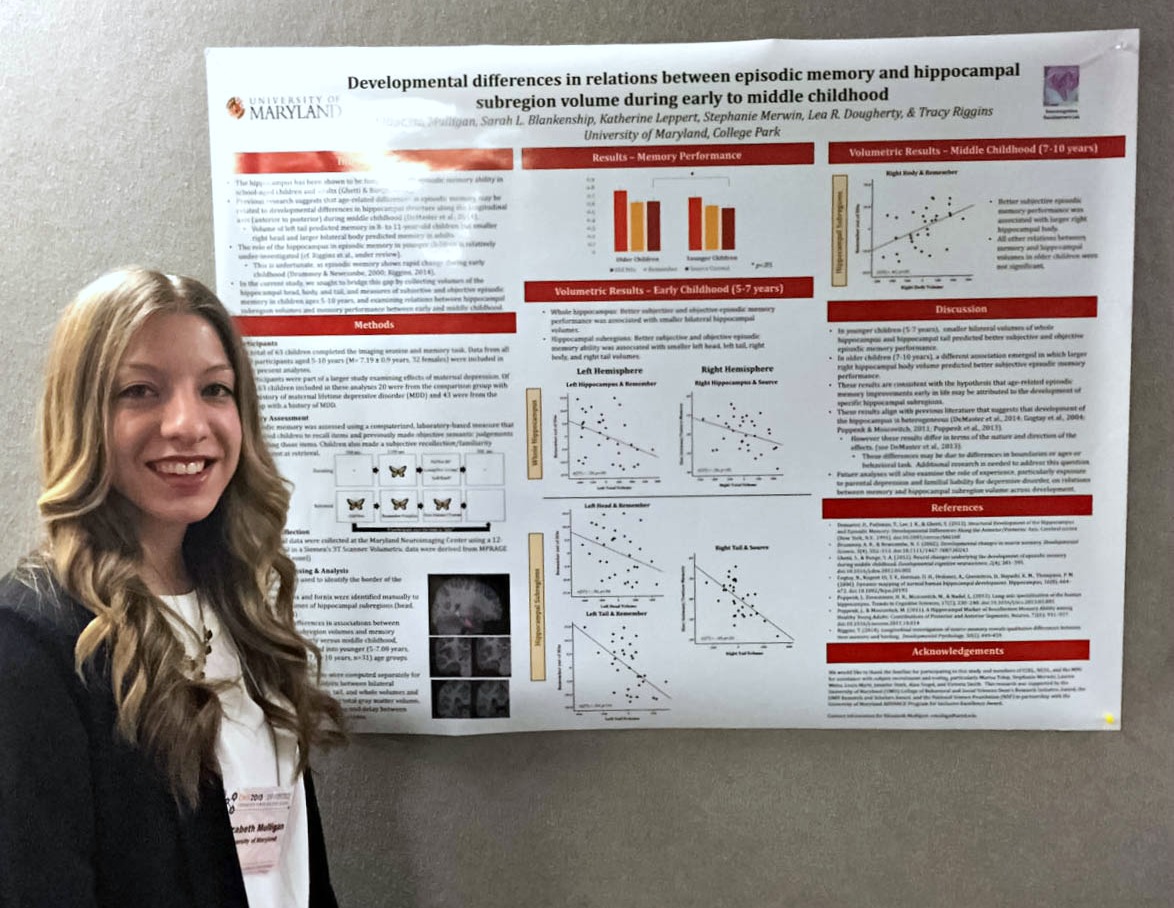 Liz Mulligan
Developmental differences in relations between episodic memory and hippocampal subregion volume during early to middle childhood
2015 Cognitive Neuroscience Society San Francisco, CA